By linking our strategic human resource goals with Camosun's organizational goals, we can ensure we have the right people, with the right skills, in the right jobs and at the right time - which will lead to sustained organizational success.
Strategic Initiatives
Camosun's People Plan PDF is a high-level strategy identified to improve upon how we attract, develop, support and retain people – the whole employee journey. The Human Resources team are developing and implementing initiatives to address the top-rated priority goals of the People Plan, identified as:
Strengthening Camosun's internal communications
Providing clarity and focus of Camosun's vision and goals
Enabling strategic workforce planning
Enhancing HR practices and processes
Providing an effective and  complete orientation program
Framework in Development
A Learning, Leadership & Development Framework is in the early stages of development. We are in the process of reviewing Camosun's existing required and relevant job related courses and training. In addition, an environmental scan of learning, leadership and development programs, within post-secondary institutions is underway.
This information will enable us to develop a framework - which includes additional learning opportunities that align with the Camosun capabilities of knowing, being, doing and relating in ways that foster an environment of inclusion and respect - thus strengthening the employee journey, supporting the college's goals and enhancing organizational culture.
Cornerstones of the People Plan
Capacity of the college to engage and develop a highly capable workforce
A clear focus for the college to support organizational success, retention and attraction
A unified organizational culture that reflects the college's values
Strengthened processes and support
Read the full People Plan PDF
Integration of Capabilities into the Employee Journey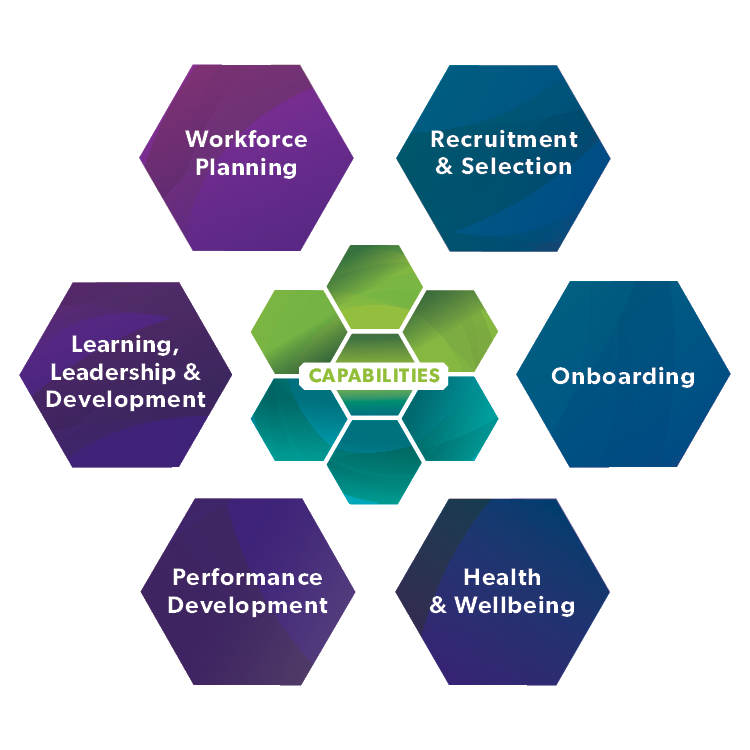 The Capabilities Framework provides the context and foundation from which we develop all of our people practices – from our initial workforce planning, to recruiting and hiring, to how we welcome new employees.
For our existing employees, our focus is on supporting and promoting the health and wellbeing of our people, assisting with performance, learning and development, as well as advancing personal and professional skills.
---
Workforce Planning
Definition: Workforce planning entails anticipating how our current and future workforce responds to the constant dynamics of internal and external change. This planning process is concerned with ensuring we have the right number of employees, in the right jobs, at the right time.
It also involves ensuring we hire and retain employees who resonate with our overall mission and exhibit our capabilities in each of our workplace roles.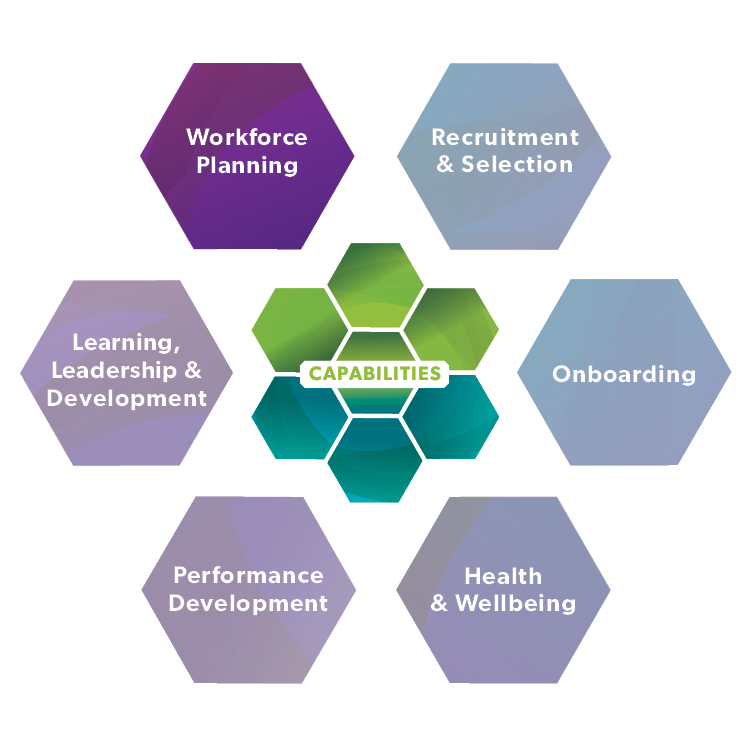 ---
Recruitment & Selection
Definition: Recruitment and selection is about using sound principles and best practice to hire for excellence – attracting and hiring employees who will contribute positively to the student experience and the collective success of the college.
It is critical that successful candidates meet the essential qualifications related to each position and demonstrate resonance with the college's capabilities, core values and strategic goals.
Integration
Hiring Toolkit for Workplace Leaders
The Hiring Toolkit guides workplace leaders through their hiring processes, integrating the values-based capabilities to find the most suitable and qualified candidate for their position. Check out the Hiring Toolkit for Workplace Leaders. Employee login required
To add your name to an interest list for the next offering of the Hiring Toolkit workshop, please go to Workplace Leader Training. Employee login required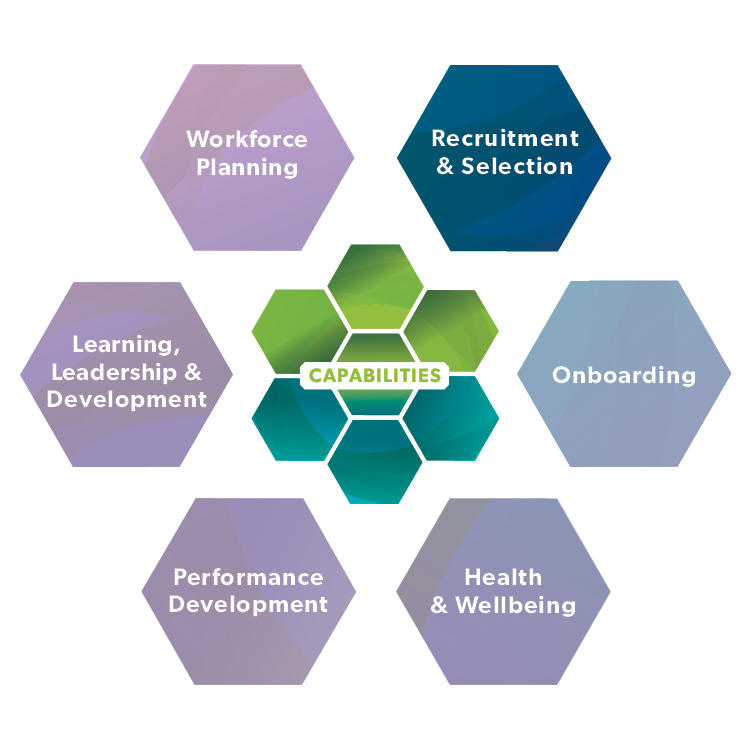 ---
Onboarding
Definition: Onboarding is how we welcome new employees to ensure they have the proper resources and supports to be successful in their new roles. Three new initiatives support employee onboarding.
Integration
New employees
We hold a New Employee Welcome event twice a year – once at each campus. HR provides a New Employee Handbook which is organized around the four quadrants from Dr. Martin Brokenleg's Circle of Courage model.
Onboarding Course for Workplace Leaders
Earlier this year, we piloted an Onboarding course with 20 current workplace leaders. We anticipate running this course on an ongoing basis, approximately 2 to 3 times per year.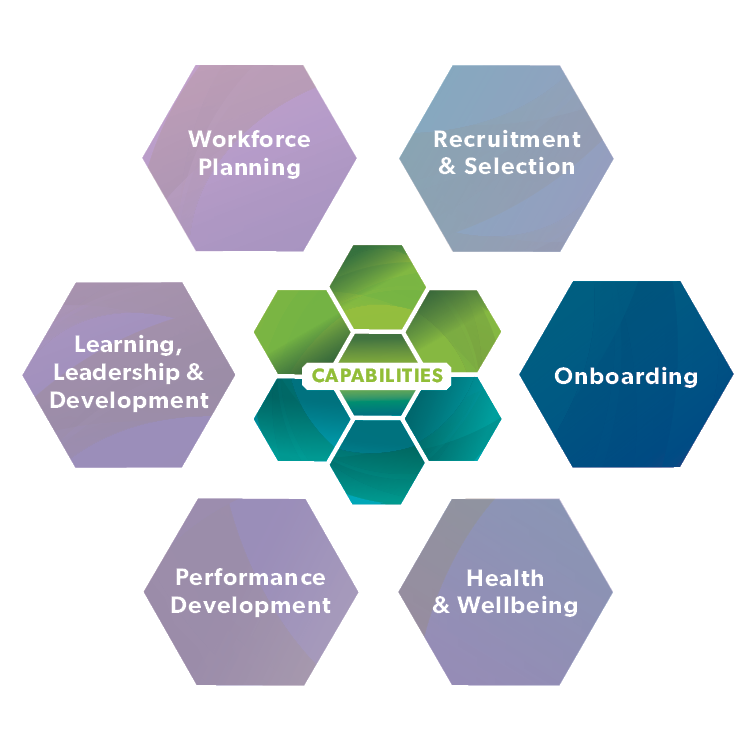 ---
Health & Wellbeing
Definition: Health & Wellbeing is about our commitment to employee wellness, a healthy workplace, and safe and healthy campus community.
Camosun's values-based capabilities guide the ongoing evolution of our Healthy Together! workplace wellness program. Employee login required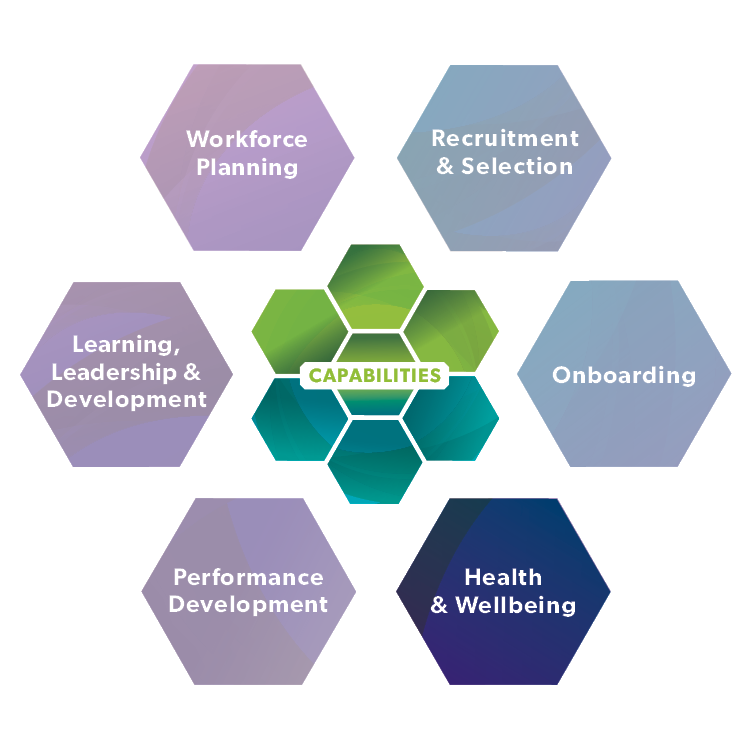 ---
Performance Development
Definition: Employee performance development is about supporting all employees and workplace leaders by recognizing accomplishments, sharing and integrating new ideas, connecting daily tasks to the 'big picture', and helping employees with goal setting and confidence.
Integration
Employee Performance Development program
An Employee Performance Development program for all Camosun employees and employee groups has been conceptually approved by the People Plan Steering Committee. 
The program itself will inform and support performance planning and development, and formal appraisal processes. The program design will reflect leading performance development practices and Indigenization principles and practices, and will align with the college's strategic direction and the terms and conditions of the college's Collective Agreement obligations.
Work is underway with the goal of a pilot delivery in fall 2018.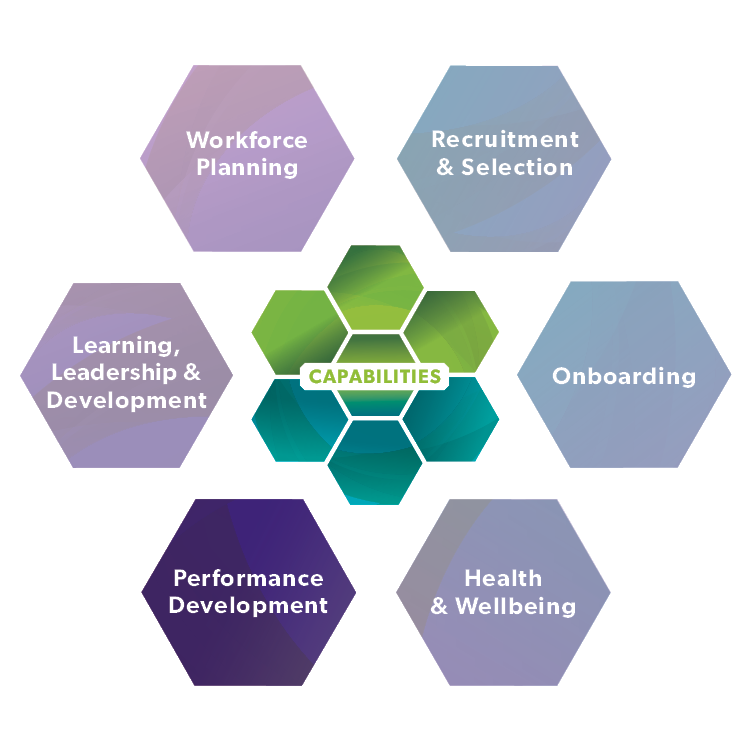 ---
Learning, Leadership & Development
Definition: Capability-based Learning, Leadership & Development programs, training, projects and services strengthen the employee journey, support the college's goals, values, policies and legislated requirements, and enhance organizational culture.
Integration
Leading for Engagement and Performance (LEAP) 
Foundational HR Practices for Workplace Leaders is a new program under development. LEAP is a dynamic, comprehensive program that is responsive to all workplace leaders, (supervisors, chairs, managers, directors, deans and executive members). All workplace leaders have a significant role to foster respectful and inclusive relationships with the people that report to them.
The program curriculum provides workplace leaders with knowledge of basic human resource principles, concepts and practices to enable them to carry out their responsibilities including:  recruiting, supervising, leading, inspiring and supporting a team of people to achieve our college's goals. 
For more information and course offering dates visit the LEAP program site. Employee login required
Course pilots
Respect in the Workplace for Workplace Leaders
Managing Culpable and Non-Culpable Performance Issues
Employee Onboarding
Courses in development
Workplace Accommodations & Return to-work Planning
Recruitment & Selection
Performance Planning & Development
Human Rights
In addition, we offer a number of workshops in partnership with the Centre for Excellence in Teaching and Learning.