Emergencies and accidents happen without warning. Preparing for the unexpected—physically, as well as psychologically—is an individual and organizational responsibility.
Camosun College Emergency Management is the responsibility of Campus Security, a division of Facilities Services, with policy oversight from the college's Emergency Response Planning Committee.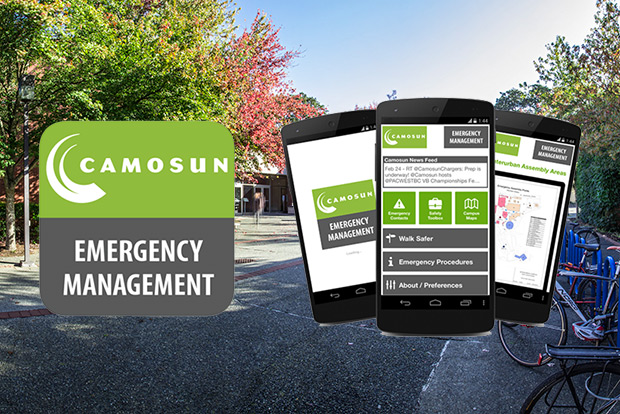 Emergency Management App
The free Camosun Emergency app is your personal safety toolkit and emergency notice centre. Built-in features make it easy to access Camosun emergency contacts, campus maps, lost and found, and personal safety tools like a flashlight or a loud alarm.
We live in an unpredictable world and the best we can do is to be as prepared as possible. In case of an emergency situation, we have posted a video (below) that will help you should a hostile person enter or threaten our campuses. While every incident is different and could require a unique response from Camosun and the appropriate authorities, we hope that by being better prepared, we can all help each other during times of crisis. This video is designed to create awareness and prompt you to consider your options if you are ever faced with the unthinkable: an active shooter on campus.
---
Camosun College Emergency Management handles:
Emergency planning and procedures
Emergency Response Plan development and operations
Emergency exercises, including college participation in Shakeout BC
Emergency response training
Emergency? Dial
250–370–3075
for help in any emergency or
3075
from any campus phone.
For non-emergency access to Campus Safety, please call 250-370-4567.
Related information