Camosun offers programs designed especially for Indigenous learners plus a wide variety of courses with Indigenous content.
Programs with Indigenous Perspectives

| Program | Credential | Description | Length | School |
| --- | --- | --- | --- | --- |
| Archaeological Field Assistant | Certificate | Covers the knowledge and hands-on skills you need to work in an archaeological dig site. If you are a First Nations community member interested in participating in cultural resource management within a traditional territory, you'll find this intensive program useful. Offered in May. Includes weekend field experience. | 1 month | Arts & Science |
| Health Care Assistant – Indigenous | Certificate | Prepares you to provide care to families and individuals in First Nations and Indigenous communities. You'll be qualified to work as part of a health care team in any level of continuing care. This program is offered every few years. | 49 weeks | Health & Human Services/ Indigenous Education |
| Indigenous Family Support | Certificate | Helps you develop knowledge, skills, awareness and values needed to work with indigenous individuals and families in schools and communities. | 10 months | Health & Human Services/ Indigenous Education |
| Indigenous Studies | Diploma | Prepares you to work in leadership capacities in reserve and urban communities and government. Transfers to other post-secondary degree programs. | 16-24 months | Indigenous Education |
Indigenous Academic Upgrading Programs

| Program | Credential | Description | Length | School |
| --- | --- | --- | --- | --- |
| Indigenous Academic Upgrading | varies | Offers English, math and basic computer studies which include Indigenous components designed to meet the needs of Indigenous students. | varies | Access |
| Indigenous College Prep | Certificate | ICP prepares you to enter college programs that require English 12 and Math 10. | 8 months | Indigenous Education/ Access |
Indigenous Peoples in Trades Training
If you want to build your career in the heart of a city or work close to your First Nations community, chances are there's a skilled trades job that's right for you.
Designed for eligible Indigenous students, this could be your answer to a hands-on career with competitive wages.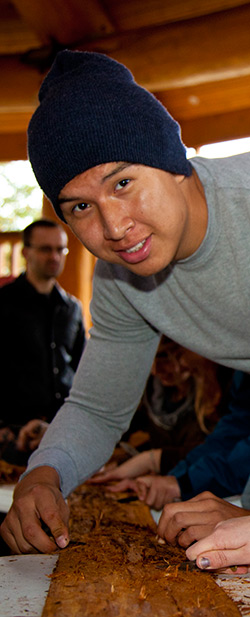 Looking for course outlines?
We provide an archive of course outlines for classes offered in previous academic years.
For course outlines for Academic Upgrading (English, Math, or basic Computer Studies) or the Building Employment Success for Tomorrow (BEST) program, please visit the School of Access Course Outlines page.
Courses with Indigenous Content
The following courses are available to all Camosun students. In some programs, a percentage of seats may be reserved for program participants. These courses are indicated with an * after the course title.
To be assured of transferability, consult with an Academic Advisor before registering in any university transfer course. To find where a course transfers, check the BC Transfer Guide.
While all courses may not be indigenized, you can bring an Indigenous perspective to the course through assignments for courses like ART 150 or GEOG 102, for example. Independent Studies courses allow for that flexibility too.