Student-centred, community-focused learning
The Camas plant as a symbol of our being and doing
Camas is indigenous to the local lands. In May these beautiful, six-petalled lilies abound in the places they have been allowed to survive. Traditionally the bulbs were an important trade item and a staple food of the Indigenous peoples.
Honouring the qualities of beauty, survival, utility, and sustenance that the camas embodies, Eyēʔ Sqȃ'lewen has adopted the plant as its visual model to symbolize the services we provide to Indigenous students and communities. The bulb represents Indigenous community and knowledge, from which our strength is derived. Its stems and leaves represent the relationships through which we do our work. The centre of the flower embodies the students we serve and each petal signifies one of our functions.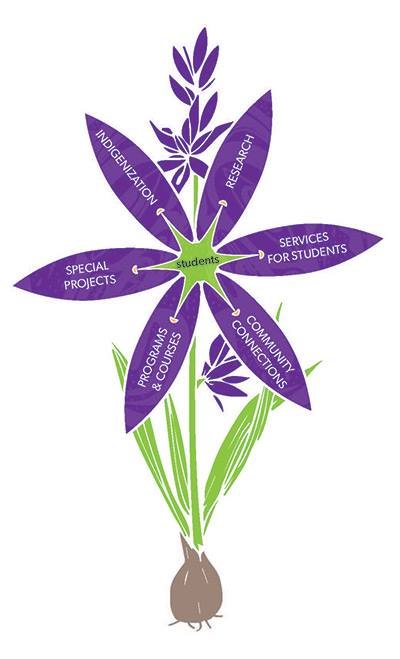 Services for students
We provide academic, financial and cultural services to students, primarily through Indigenous Advisors.
Community connections
We develop and nourish working relationships with Indigenous community to support Indigenous students and community initiatives. This helps to keep the work we do grounded and relevant to all.
Programs and courses
We deliver the Indigenous Studies, Indigenous College Prep and Indigenous Human Services Career Access programs, and support other Indigenous programs and courses across Camosun College.
Special projects
We lead projects that enhance Indigenous student success and support Indigenous community development.
Indigenization
We support the college to ensure that indigenous ways of knowing, being, doing and relating are reflected in the way that Camosun serves students and communities.
Indigenous research
We are in the process of developing Indigenous research protocols and capacity.
Philosophy
Honouring our teachings, we seek and hold values of trust, wisdom, integrity, courage, humility, and love. From this, we walk alongside students to encourage in them – and in ourselves – perseverance, commitment, and excellence.
Beliefs
We believe that Indigenous learners reach their fullest joy and potential as they acknowledge place and engage in learning and teaching while exploring identity and tradition.
Mission
We engage in Indigenous education, services, and leadership that enhance student learning and enriches relationships with communities.