University Transfer Options Areas of Study
Looking for a bachelor's degree? Take one course, or up to two full years at Camosun
A four-year bachelor's degree is the starting point for many professions, and each year close to 3,000 students choose Camosun as the starting point for their degree. With lower tuition, small class sizes and dedicated, qualified faculty who love to teach and care about your future, you'll be well prepared for success when you're ready to transfer.
Programs marked with this symbol are open to international students.
Need only a course or two? Choose University Transfer
In order to register for courses at Camosun, you must first apply to a program. With our University Transfer program, you can mix and match your credit courses to create an educational plan that's just right for you. Full-time, part-time, general studies or a specific focus—it's your custom program.
Option 1 – Flexible transfer program options
You can customize your own learning by choosing one of Camosun's flexible transfer programs. You get to decide which courses to take, based on your interests and your own educational and career goals.
The online BC Transfer Guide will show you which courses transfer to which universities, and Camosun staff in Admissions or Academic Advising can also help you  make informed choices.
Not what you're looking for? See the full list of everything Camosun offers.
Option 2 – Career-focused programs that transfer
You don't have to choose between college and university… there's a really good chance you'll do both. Camosun's career-focused diploma programs prepare you for employment with the added benefit of transfer credit into various degree programs at selected universities throughout BC and across Canada. Best of all, you can decide when to continue your education – transfer as soon as you graduate, or work for a while first and continue your education when the time is right.
Note: This table is a handy guide to known transfers, although other transfer arrangements may also be possible. It is your responsibility to consult with the destination university regarding admission and transfer criteria, GPA requirements and application processes.
Not what you're looking for? See the full list of everything Camosun offers.
Option 3 – Engineering Bridge programs
Camosun offers six-month Engineering Bridge programs for technology diploma graduates who plan to continue their education at UVic or UBC. These bridge programs are open to graduates from Camosun and other Canadian post-secondary institutions.
If you are interested in Engineering Bridge but have yet to complete a technology diploma, you can start by taking one of the many technology programs offered at Camosun.
Not what you're looking for? See the full list of everything Camosun offers.
Did you know?
You don't have to transfer to complete your degree. Check out these four-year degree programs offered right here at Camosun.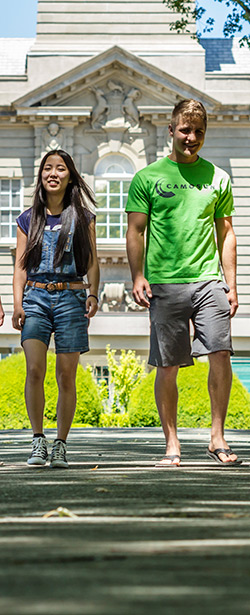 Last updated: August 25, 2022 4:27 pm