At Camosun College, applied learning is an approach to education that reflects the complexity of the rapidly changing world around us.
CamSTAR: An Applied Interactive Learning Resource
What is Applied Learning?
Applied learning refers to learning experiences that get learners thinking, collaborating, and communicating, and ultimately have them engage with and contribute to the world around them. These learning experiences take place in a range of contexts, including in the classroom, the workplace, the community, and on the land, and enable learners to apply and integrate theoretical knowledge, as well as personal, practical, and professional skills. Ideally the learning activities simulate real-world situations or are situated in a real world context.
Applied Learning at Camosun
In every area of study across the college, Camosun students are guided through authentic learning experiences that are designed to develop their skills by tackling real issues facing society, government, business and industry.
Work terms and beyond
Camosun students have applied and amplified their skills through work terms for decades, including through co-operative education, internships and apprenticeships. Projects and practicum placements bring an applied focus in subjects such as visual arts, environmental technology, engineering, nursing and more. Connection to the local community is deepened through experiences outside the classroom and time spent learning on the land with local Indigenous knowledge keepers.
Building an institutional foundation
Camosun is building on this rich history of integrated, applied education. Our Applied Learning team is working to document existing practices and to develop resources for faculty that support the integration of applied learning opportunities in courses and programs.
Applied Learning in Action
Camosun connects
We demonstrate care for our community, locally and globally. We partner with community businesses and organizations to deepen understanding and help create strength socially, economically and environmentally.
Camosun works
Camosun gives students the opportunity to apply skills on the job, often with award-winning results.
For the 11th year in a row, a Camosun College student was named the ACE BC (Association of Co-operative Education for BC and the Yukon) College Co-op Education Student of the Year. Learn more.
Camosun creates
Through capstone projects and by working with community partners, students are bringing their fresh ideas to the marketplace.
In 2017, Camosun's Board of Governors Award for Innovation was awarded to Mechanical Engineering Technology student Ben Costin, who worked with Camosun Innovates during his studies. Costin helped local company Ocean Rodeo to develop a ground-breaking new control bar for the global kite-boarding industry. Learn more.
Spotlight
Camosun is full of stories of applied learning: students bringing their education to the community, facilitated by the engaged instructors and staff who work with them. Read more.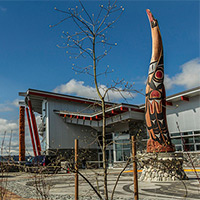 "When we talk about food sovereignty, we're recognizing knowledge and the knowledge keepers who have the power and the right to define their own food systems."
Nicole Kilburn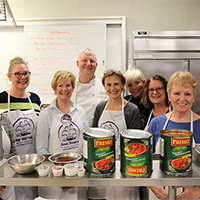 "Food connects us all. When people come together and sit around a table and break bread and enjoy food together, they break down all sorts of barriers."
Steve Walker-Duncan
Applied Learning FAQs
Have some questions about implementing applied learning within your organization? Download the frequently asked questions (FAQs) PDF