'Camosun helping Camosun'
Hospitality Management students host unique fundraiser for Camosun Child Care Services
Media Release
Release Date: November 21, 2017
Camosun Hospitality students know the secrets of making people feel special. As guests arrived at Dunlop House restaurant at Lansdowne campus last Friday night, they were greeted warmly by sharply dressed students and welcomed into a unique fundraising event called "Brews Mystery Tour."
Student-designed and managed, the third annual event raised thousands of dollars to improve outdoor playground spaces for Camosun Child Care Services.
As guests mingled in the cozy atmosphere of historic Dunlop House and live entertainment created an elegant party vibe, students served freshly prepared hors d'oeuvres matched with craft beer samples provided by community partners Hoyne Brewing Company and Category 12 Brewing. Appetizers were generously donated by Chef Nicholas Waters of Toque Catering and charcuterie was provided by Cure Artisan Meat and Cheese. Silent auction items were donated by Parkside Hotel and Spa, Victoria Royals, Il Terrazzo Restorante, Inspire Hair Design, Liquor Planet and others. After the initial phase at Dunlop House, guests boarded a bus and enjoyed the hospitality at Vancouver Island Brewery as well as Ticket Rocket Event Centre, where Sooke Oceanside Brewing was featured. Throughout the evening, live entertainment was provided by performers Karly Summers, Craig Henderson Trio and Eryn Sharpe Trio. From start to finish, the sell-out event was well organized, professional and fun.
Camosun Child Care Services Manager Lisa Stekelenburg was thrilled once again with its success. "It raised thousands of dollars for our Nature Scape Playground project," she says. "I can't speak highly enough of this partnership that we have had since the inception of the Event Management class in the program. Events like this are truly 'living labs' where the students create an opportunity for the community to support Camosun and to showcase what we do best."
Hospitality Management Chair Carl Everitt agrees. "This event is unique because we've partnered with external community stakeholders as well as provided an opportunity for our students to give back internally to the college," he says. "For the students, it also gives them credibility when they go out in the industry and can put these types of applied learning experiences on their resumes."
Second year hospitality management students Matteo Qualizza and Nicola Scott co-chaired the event and were voted by their peers to assume those leadership roles. "For me, I really learn best hands on," says Matteo. "I love talking to people and that's why I'm in this business. We had a huge team who held weekly meetings to prepare for this event and everyone was delegated with different jobs like marketing, operations, finance and project management. Everyone was super excited with how it turned out."
Throughout the term, the 36 students in the current second-year hospitality management cohort gain invaluable real-world experience by rotating through a variety of professional roles while hosting a number of high profile events. Upcoming events include: Community Micro Lending's annual fundraiser (Nov 24) and Swan Lake Christmas Hill Nature Sanctuary Winemaker's Dinner (Dec 2). A limited number of tickets are still available for these popular events.
As demand surges for trained professionals in the global hospitality industry, Camosun's Hospitality Management program will offer its first ever winter cohort in January 2018.
About the Hospitality Management Program
Through applied learning and a global perspective, graduates of this program are in high demand. With an alumni class spanning almost 40 years, our graduates have found successful careers in some of the most prestigious hotels and restaurants in Canada and around the world.
Contact
Ivan Watson
Communications & Marketing Strategist
Camosun College
250-418-0700 | watsoni@camosun.ca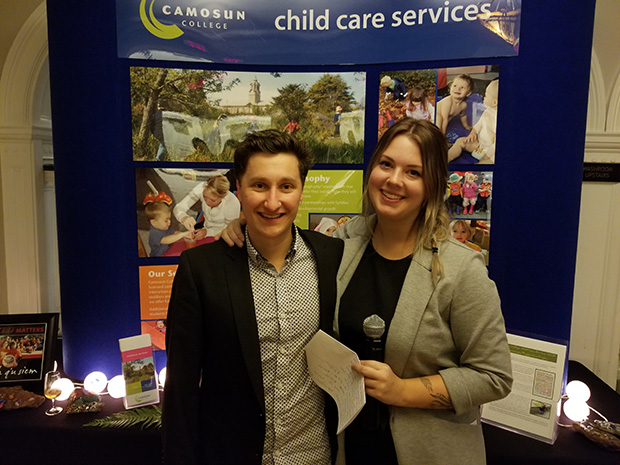 Event co-chairs Matteo Qualizza and Nicola Scott were chosen by their peers to lead a student team who designed and managed all aspects of the popular 'Brews Mystery Tour" fundraiser.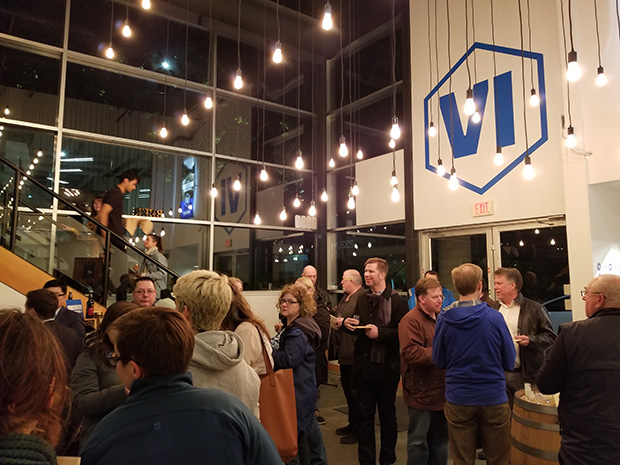 Guests enjoy delicious appetizers and craft beer served by Camosun Hospitality students at Vancouver Island Brewing Company on November 24. The event is an annual fundraiser for Camosun Child Care Services and proceeds go towards improving outdoor playground spaces.
Last updated: November 22, 2017 12:54 pm