Lisa Stekelenburg Manager of Child Care Services
Through dedication, collaboration and a great appreciation for the natural environment Lisa and her team "…have created an ethos of sustainability. It is embedded in our best practices," says Lisa, "education is the heart of sustainability – it is about the future."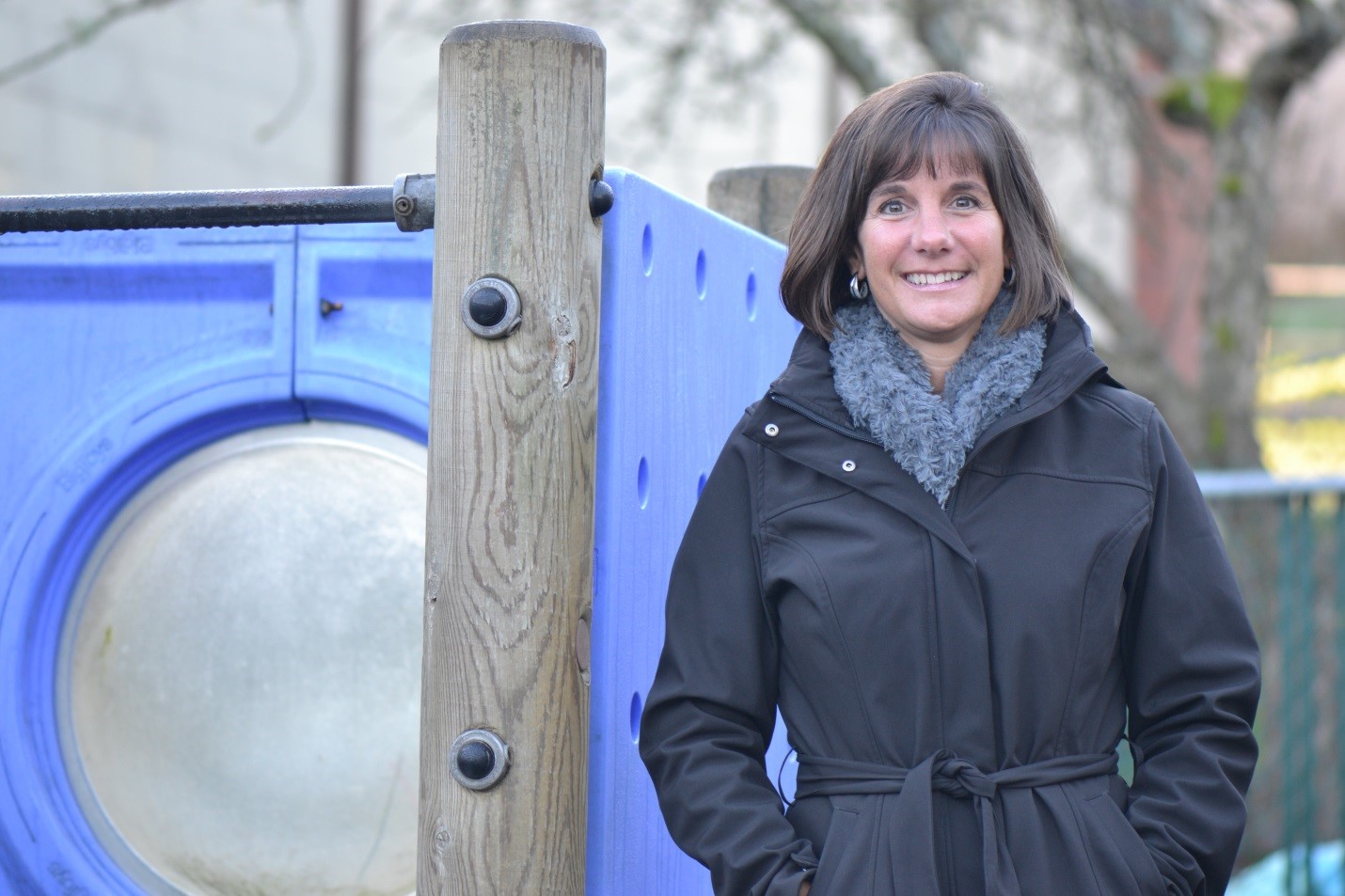 "Children are our future and we have the opportunity to teach them about becoming global citizens"
Lisa Stekelenburg – Child Care Services, Education is the Heart of Sustainability
At Camosun, we feel privileged to provide education to people at various stages of their lives, but you might be surprised to find out that Camosun's youngest learners can be as young as three months old! That's when they can begin their learning at Camosun's Child Care Services while their parents attend classes or study.
Lisa Stekelenburg, Manager of Camosun Child Care Services, is passionate about developing critical thinkers, encouraging others to develop a worldview, and about sustainability. Having developed an appreciation for service and global sustainability through numerous overseas service projects prior to coming to Camosun, she believes "sustainability is an ever-evolving concept and learning process. On a global level it is about thinking critically about things we take for granted. It is about realizing we are global citizens. As a world, we are one human family balancing the needs of humanity with the needs of the Earth. My passion is there – in finding that balance."
It was this passion about sustainability that originally brought Lisa to Camosun. "I joined Camosun in 2004 to develop a financially sustainable business model for the child care centres," says Lisa. Now, together with her team she has not only achieved that, but has found inspiring ways to improve the child care centre operations while also offering enriching learning experiences for Camosun's littlest learners. "Not only are we educating children, we are educating their parents and the Camosun community about children," Lisa says, describing the child care centres as Living Labs which support reciprocal learning opportunities. "We have worked, for example, with dental students who teach the children about oral health, carpentry students who have come to build an outdoor shed, or sport education students teaching a movement class."
Appreciation of local environment and ecosystems and a passion for holistic learning has led Lisa and her teams to incorporate elements of nature into Camosun's child care centres. Branches, nests, and leaves decorate the centre and children witness the natural systems that surround them through inside activities as well as ones that take them outside to enjoy nature. "There is a marsh surrounding the Interurban facility so we teach the children about the Pacific Tree Frog that inhabits it," says Lisa. "Our educators collect Pacific Tree Frog egg sacs, the children raise them and release them back into their natural environments – the children are thrilled when the frogs come back to visit them." The centres also raise monarch butterflies, learn about vermi-composting, and keep the bird feeders filled with preferred seeds for each species.
As the children learn the importance of natural ecosystems, they also learn about the impacts they have on those delicate systems as well as how they can preserve them. Litterless lunches are encouraged, and children are taught to conserve water, energy and reduce their personal waste. "Garden to plate" activities enable children to learn about sustainable food production and preservation. Recyclable materials are used in creative play.
Through dedication, collaboration, and great appreciation for the natural environment, Lisa and her team at Camosun's child care centres have created an ethos of sustainability. "It is embedded in our best practices; education is the heart of sustainability – it is about the future," says Lisa and recites a favorite Chinese Proverb, "If you think a year ahead, you plant a seed, a decade ahead you plant a tree, a century ahead, you teach the people."
"Children are our future and we have the opportunity to teach them about becoming global citizens," concludes Lisa. "The opportunity to guide and facilitate learning at this level is incredibly exciting." Lisa believes with complete conviction that "we are human becomings, not human beings. Our lifelong growth continues until we decide to stop learning."
Thank you to Lisa and her team for inspiring Camosun's youngest learners to be stewards for sustainability. We cannot wait to meet these future citizens of the world!