Camosun College is constantly exploring ways to minimize water use on campus and has achieved reductions in our building water use, outdoor water use and the amount of bottled water used on campus. Camosun is also helping to train future plumbers to conserve water and helping local businesses protect wetlands.
2016 CRD Water Audit
Water Use Survey
Camosun College has signed an MOU (2016) with the Capital Regional District to conduct a water use survey on the Lansdowne Campus. During the next year (2016/17) Camosun staff, faculty and students may notice CRD employees in and around the Lansdowne campus, checking taps, surveying water use, checking flow rates etc. Camosun is committed to prioritizing and addressing sustainability on campus and this survey will provide valuable insight into ways in which we can reduce our water consumption and GHG emissions.
What is a water use survey?
The CRD water use survey is a comprehensive assessment which both evaluates historical water use and analyzes current water use in order to offer recommendations and improvements tailored to a particular business, workplaces or institution. The goal of water audits is to identify areas in which greater water efficiency can be reached. In past surveys the CRD has been successful in helping organizations reduce their water consumption in turn reducing water use related costs by 30-50%.
For more information regarding water conservation and the CRD please reference the links below.
Conserving water
Camosun College is constantly exploring ways to minimize water use on campus and has achieved reductions through the following initiatives.
Rainwater Harvesting
Rainwater that is currently entering the municipal storm water system is harvested and used by the Cross Connection lab in the Plumbing shop for washing floors and for plumbing mock-ups.  Purchase of a storage tank and pumping and treatment equipment was supported by the 2012 Presidents' Funds.
Storm Water Management
At the Interurban campus Trades compound, all shop catch basins drain into individual shop separators and then into a 3409 gallon underground oil separator before the water is released into Colquitz Creek. The 3-stage underground separator was installed in 2002. It is checked yearly and sludge (which is minimal) is removed as required. Oil and fluids have separate containment and recycling plans and each shop manages its own waste. All parking lots at both campuses have catch basins to stop vehicle oil and fluid leaks from entering the storm drains.
Building water use
Indoor water use reductions have been achieved by retrofitting or installing:
Waterless urinals
Low-flow toilets and fixtures
Sensors/auto flushometers
This is an ongoing project with more buildings being retrofitted on a continuous basis.
Outdoor water use
Outdoor water use is reduced through use of native and drought-tolerant plants, while the Camosun bioswale mitigates pollution from surface runoff water. Learn more.
Training future plumbers to conserve water
The Cross Connection Lab, used by plumbing and pipefitting students, incorporates a grey water reclamation system to reduce water use and serve as a training tool. The system, which was purchased through President's Funds, re-captures water used in the lab and recycles it for re-use in the same lab.
Camosun research and innovation services help local business protect wetlands
Petro Barrier Systems Inc. developed a drain insert that captures pollutants in storm water—oils, fuels and solvents—preventing them from entering local watersheds. With the help of a research grant from the NSERC, Camosun researchers invented the sensors and wireless communication system that will allow PBS' invention to be used in real-world applications. The integrated system will be piloted for the next two years: eight drains are currently in place at Royal Roads University, and Camosun will conduct controlled laboratory testing to challenge the system under a variety of scenarios that mimic severe weather and spill events. Read more.
Bottled water on campus
Camosun is working to reduce the amount of bottled water used on campus, while ensuring convenient alternatives are available. The college is improving access to public water and has installed water bottle refill stations, which offer filtered cold water, on both campuses. Water bottle refill spigots are also being installed in most washrooms.
Not only is public water a healthy and delicious alternative, it is also free!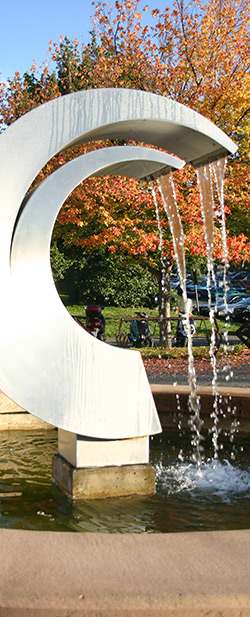 Water bottle refill stations
Lansdowne campus
Building
Refill Stations
Refill Taps
Fisher Building
1st floor, near men's washroom
1st floor, filtered tap water in the Campus Caf
1st floor, Canadian Springs refill vendor at the Refreshment Centre
3rd floor, men's and women's washrooms
2nd floor, men's and women's washrooms
Dental Building
Across from Room 005
Paul Building
1st floor, by the boiler room
Wilna Thomas
1st floor, by men's washroom
2nd floor, men's and women's washrooms
Learning & Resources Centre
1st floor, by women's washroom
Ewing Building
1st floor, men's and women's washrooms
Dawson Building
1st floor, by men's washroom
1st floor, men's and women's washrooms
Young Building
1st floor by fitness area
1st floor hallway
2nd floor men's and women's washroom (east)
Interurban campus

| Building | Refill Stations | Refill Taps |
| --- | --- | --- |
| Jack White Building | Beside Pipe Chase, near the men's washroom (across from the boiler room) | |
| Campus Centre | 1st floor, across from the CCSS office | 1st floor, men's and women's changerooms |
| Drysdale | Across from Classroom 135 | |
| Technology Building | Across from Room 181 | |
| CBA Building | 1st floor, Atrium area and in the 2nd floor hallway | |
This information was provided by members of the Camosun Students for Environmental Awareness and Facility Services. Is your favourite refill spot missing? Contact us.