Camosun's Sustainability Plan identifies the collective challenge and responsibility to achieve zero waste.
Zero Waste at Camosun
Rethink needless waste and consumption, Reduce (use only what you need), and Reuse to maintain value and function. If you must dispose, take the time to sort properly. Contamination of recycling and organics leads to a lot of unnecessary waste.
Recycling at Camosun
Ever wondered what you should be putting in which bin? Here's a handy guide.
Blue bins: Mixed paper and cardboard

newspapers
magazines
office paper

Green bins: Plastic and tin

plastics # 1 through 7
beverage containers
clamshell food packaging
milk cartons
tetra paks
coffee cup lids
light metals
aluminum foil and containers
tin cans 
glass (not broken glass)

Grey bins (black lid): Waste – landfill

chip bags
bar wrappers
non-compostable food waste
Composting at Camosun
Return your waste to the earth! Here's your guide to Camosun's compost bins.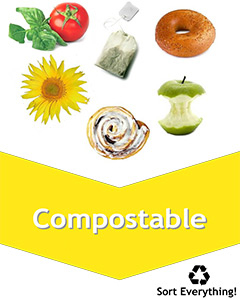 Food waste
Tea bags
Fruit peels and pits
Compostable cutlery
Bones
Wood stir sticks
Paper towel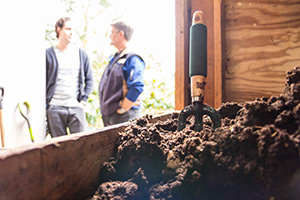 CAMpost: Vermicomposting
In 2012, the E.A.R.T.H Gardening and Employment Training and Preparation (ETP) programs won funding from the Camosun College President's Fund to create an on-campus vermi-compost project. Through the raising and use of worms, the collection of compost from offices at Interurban, and the selling and use of the vermicompost, students gain skills in composting and customer service.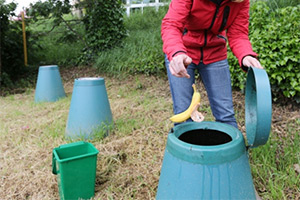 Cone digesters project
After two years of hard work involving Environmental Technology students and faculty and Facilities Services staff, several green compost bins have been installed in most buildings around campus. All types of food waste including meat, cheese, bread and cooked leftovers can be dropped into these bins. Camosun has hired two students part-time to collect the waste daily and redistribute it into 16 new cone-shaped anaerobic organic waste digesters. An educational component of these projects will soon be developed to help explain and teach the new composting system at each campus.
Learn more about vermicomposting or green cone digester composts from the Victoria Compost Education Centre.
Diverting other materials from the landfill
Writing instruments
Through the Staples Canada and Terracycle® recycling program, interested departments or individuals can collect pens/markers and bring them to any Staples store, where they are then sent to Terracycle for recycling. Get your program going in three easy steps:
Set up your collection box – DIY with this handy resource kit.
Drop off old writing instruments.
Take the full box to Staples for recycling. Please note, this is a voluntary program with sponsor offices responsible for their own take back.
For students, collections boxes are located at the Student Society offices.
Styrofoam
College use only. Items bagged in clear bags and stored in Recycle Storage Area until collection.
Items collected: Rigid, popcorn and soft styrofoam collected.
Soft Plastics
Items bagged in clear bags and stored in our Interurban or Lansdowne Recycle Storage Area.
Items collected: All types of soft plastic and plastic bags.
Washroom Paper Towels
Currently from Fisher Bldg., PISE, expanding to all other buildings.
Collected by Custodial staff from washrooms in separate containers.
Batteries
Collection Boxes (via Call2Recycle) are located in the Receiving Department at each campus at Interurban and Lansdowne.
Items collected: Encompasses all Dry cells, "D", "C", "AA", "AAA" and 9-volt. Larger wet cell/vehicle batteries are handled as a hazardous waste, stored in our chemical storage bunkers and disposed of through the year.
Why is it important to properly sort your waste?
Contaminated recycling and compost streams head straight to the landfill! As waste decomposes in the landfill, greenhouse gases are produced, including methane. Methane has 21 times the warming potential of carbon dioxide, intensifying global warming. Landfill garbage also increases the risk of soil, water, and air pollution. Plastic waste is a huge problem in our world, properly sorting your plastics can make a difference.
Recycling at Home and In Our Community
We want to help take the guess work out of recycling; below are our favourite resources to help you properly sort your waste at home:
Contact
Facilities Services
Lansdowne: 250-370-3041
Interurban: 250-370-3889
Bill Christie, Supervisor Building Operations
christieb@camosun.ca
Did you know?
The plastic forks/knives/spoons you get from Urban Diner and Campus Caf are totally compostable! You can toss them in any of the compost bins around campus.
Don't like the idea of how much paper resources go into the publishing of textbooks? The bookstore offers some textbooks in ebook format.
Receive $0.25 off drinks when you use a reusable mug at the Campus Caf, By the Books, Java Express, and Urban Diner.