There are many ways to get involved with environmental sustainability at Camosun – from student groups, to credit courses, to make small changes to your daily routine. In addition, you can learn more about how to live sustainability in all areas of your life.
Sustainability Council
The Sustainability Council provides strategic advice and recommendations on how to advance college's sustainability initiatives, projects and practices. As well, members of the Sustainability Council will encourage active collaboration across schools, departments and student/employees to foster integration of knowledge, expertise and perspectives to achieve sustainability goals and objectives. Interested in being involved? Contact us: sustainability@camosun.ca
---
Camosun College Student Society
The Camosun College Student Society (CCSS) is a democratic body of students whose mandate is to advocate for the interests of students at Camosun College. The CCSS Sustainability Director is responsible for encouraging and maintaining the movement by Camosun students to reduce their environmental footprint. The actions and goals of the sustainability director are determined on an annual basis by the elected individual. Goals of past sustainability directors have included:
giving students access to local, affordable organic produce
enhancing access to green space
reducing consumption on campus
promoting alternative forms of transportation
providing opportunities for students to be part of an environmentally considerate culture, on campus and in their communities
The CCSS has supported numerous environmental sustainability initiatives at Camosun College including:
Defend the Coast – Enbridge Pipeline Protest
"Back the Tap" Campaign (Canadian Federation of Students - BC)
Supporting student projects/initiatives relating to sustainability, such as funding aquaponics greenhouse on campus
Learn more about the CCSS and initiatives they are working on.
Contact
CCSS Sustainability Director
sustainability@camosunstudent.org
250-370-3590
---
Camosun Students for Environmental Awareness
Camosun Students for Environmental Awareness (CSEA) is a student-run organization that exists to foster awareness of environmental issues, while advocating for and implementing meaningful change. It was formed in 2005, when a group of like-minded students began meeting to discuss their ideas of what environmental initiatives were possible at Camosun. Their goal was to work to change Camosun's environmental policies. Since it began, CSEA has had many successes, such as:
Converting the college's printers and copiers to 100% post-consumer recycled paper
Hosting annual Sustainability Day
Screening several movies, facilitating workshops and hosting a variety of lectures
Establishing a column in Nexus, Camosun's student newspaper
Hosting annual Sustainability Party
Collaborating with the CCSS to facilitate environmental campaigns on campus
Find out more about CSEA or how you can get involved.
---
Community Engagement
Looking for a hands-on way to conserve and restore the environment?
Camosun's Office of Sustainability encourages students and staff to get involved with the Greater Victoria Green Team, a new environmental volunteer program where volunteers get together and participate in local conservation and restoration events; removing invasive non-native plants, planting native species, and cleaning up shorelines in Municipal, Regional and Provincial parks.
The Green Team also harvests and prepares vegetables at non-profit educational farms. It's a great way to make a tangible impact on the environment; meet like-minded people; learn about the environmental issues facing parks; connect to nature; learn to become a leader and work as a team; gain volunteer hours; and have fun!
Please join us at http://www.meetup.com/greater-victoria-green-team. If you need more information please email amanda@greenteamscanada.ca or visit www.greenteamscanada.ca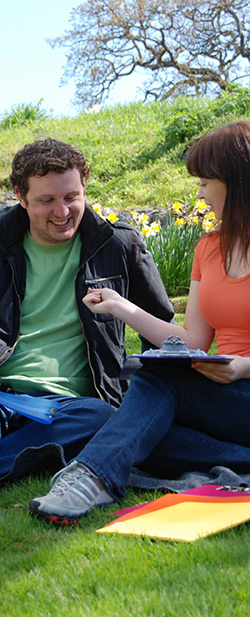 AASHE
Camosun College is a member of the Association for the Advancement of Sustainability in Higher Education.
AASHE provides numerous resources, including a weekly bulletin of sustainability-related news in higher education. Camosun campus community members can use their "@camosun.ca" email address to log in to AASHE's member-only resources.