The Indigenous Plant Garden is a living classroom that is used by a wide variety of departments to teach concepts from the chemistry of soils to the poetry of plants.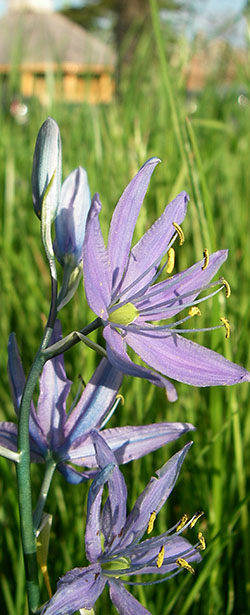 Seed
Connection to land is deep-rooted in Indigenous cultures; learning to live in a sustainable way in relationship with land forms the basis of Indigenous education models. The Na'tsa'maht Indigenous Plant Garden is that seed for Camosun College, where we begin to grow roots and have space for a connection to place for all those who learn and grow in our community. The garden is located on the traditional territories of the Lkwungen and W̱SÁNEĆ (Pauquachin, Tsartlip, Tsawout, Tseycum) peoples on the edges of the Na'tsa'maht gathering place on the Lansdowne Campus.
Germination
Seeds germinate when conditions are perfect for growth. Through collaboration, Camosun has acknowledged that the Indigenous Plant Garden is an important place of teaching and learning and as a vehicle in which traditional knowledge can be carried forward into future generations. It is a true place of Na'tsa'maht, a Salish phrase, meaning "unity or working together as one". The Indigenous Plant Garden started with the development of the Na'tsa'maht Gathering Place and was developed with Presidents Funds in 2010 under the leadership of Indigenous Education and Community Connection. Revitalization and commitment to the gardens as a teaching tool began more formally with the 2015 Innovation Funds process with the partnership of interdisciplinary team from IECC, Biology, Anthropology, Camosun International and the Office of Sustainability.
The Na'tsa'maht Indigenous Plant Garden "provides an opportunity to enhance classroom learning with a variety of delivery methods through field education, applied research, and technology transfer for students" (Sustainability Report 2014). The garden links us to the past, a connection with history and culture of our ancestors. The garden is a link to the present by involving the students in the knowledge and exploration of the plant community. The garden is a legacy for the future, a storehouse of knowledge and experiences yet to be realized by the next generation.
Roots and Shoots and Pollination
The garden stands as a permanent symbol of Camosun's continuing support in the recognition of and respect for the traditional peoples, their lands and their knowledge.
The garden also serves as a way to support Camosun College's approach to intercultural education which embraces and promotes opportunities to seek understanding across cultures and offers an inclusive and safe learning environment through the development of relationships, through shared experience, and through relationship to the land.