2015-2016 Chargers Women's Volleyball Team
Coaching Staff
Head Coach

Chris Dahl

Assistant Coach

Chris Abra

Assistant Coach

Chris Koutougos

Assistant Coach

Ernest Friesen

Assistant Coach

Erika Sheen

Strength & Conditioning Coach

Dustin Moore

Head Athletic Therapist

Matt Lumsdaine

Student Athletic Therapist

Lemuel Lau

Student Athletic Therapist

Rachel Hargreaves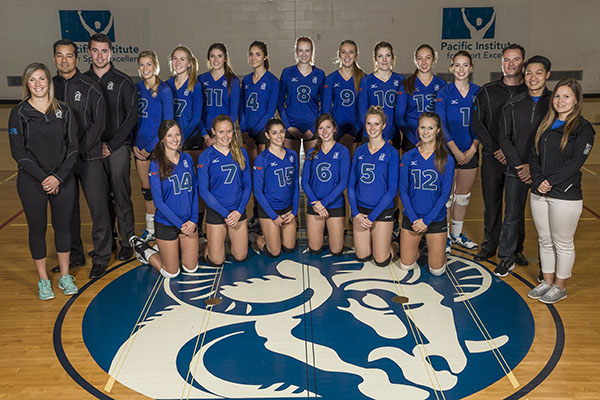 BACK ROW L-R: Erika Sheen - Asst. Coach, Chris Dahl - Head Coach, Chris Abra - Asst. Coach, Emily Thorlakson, Megan Beckett, Jacqueline Coulter, Taylor Ellis, Erika Morris, Lainey Jantzi, Cassandra Allen, Morgan Monkman, Kathryn Fetting, Ernest Friesen - Asst. Coach, Lemuel Lau - Student Athletic Therapist, Rachel Hargreaves - Student Athletic Therapist
FRONT ROW L-R: Jenna Poole, Stephanie Galitzine, Robyn Bishop, Jamie Rodstrom, Michelle Zygmunt, Mychaela Roelants
NOT PICTURED: Jasmine Strandlund, Chris Koutougos - Asst. Coach, Matt Lumsdaine - Head Athletic Therapist, Dustin Moore - Strength & Conditioning Coach
Players

| Last Name | First Name | Uniform | Year | Position | Height | Hometown | High School | Program |
| --- | --- | --- | --- | --- | --- | --- | --- | --- |
| ALLEN | Cassandra | 10 | 1 | Middle | 6'0" | Victoria, BC | Belmont Sec | Arts & Sciences |
| BECKETT | Megan | 17 | 2 | Outside | 5'11" | Victoria, BC | Reynolds Sec | Criminal Justice |
| BISHOP | Robyn | 15 | 1 | Libero | 5'4" | Nanaimo, BC | Ladysmith Sec | BSFL |
| COULTER | Jacqueline | 11 | 1 | Outside | 6'0" | Calgary, AB | St. Mary's High | UT |
| ELLIS  | Taylor | 4 | 1 | Middle | 6'0" | Nanaimo, BC | Ladysmith Sec | UT |
| FETTING | Kathryn | 1 | 4 | Outside | 5'10" | Lethbridge, AB | Catholic Central | Bus Admin |
| GALITZINE | Stephanie | 7 | 1 | Outside | 5'8" | Victoria, BC | Lambrick Park | UT |
| JANTZI | Lainey | 9 | 4 | Middle | 6'1" | Parksville, BC | Ballenas Sec | UT |
| MONKMAN | Morgan | 13 | 1 | Outside | 5'11" | Smithers, BC | Smithers Sec | UT |
| MORRIS | Erika | 8 | 3 | Outside | 6'1" | Prince George, BC | Prince George Sec | Bus Admin |
| POOLE | Jenna | 14 | 1 | Setter | 5'10" | Winnipeg, MB | Mennonite Brethren | UT |
| RODSTROM | Jamie | 6 | 4 | Libero | 5'6" | Victoria, BC | Belmont Sec | Civil Engineering Technology |
| ROELANTS | Mychaela | 12 | 3 | Libero | 5'8" | Comox, BC | Highland Sec | UT |
| STRANDLUND | Jasmine | 18 | 2 | Setter | 5'6" | Victoria, BC | Lambrick Park | UT |
| THORLAKSON | Emily | 2 | 2 | Middle | 5'11" | Vernon, BC | Kalamalka | General Studies |
| ZYGMUNT | Michelle | 5 | 3 | Outside | 5'10" | Abbotsford, BC | WJ Mouat | CARPF |
Profiles
Cassandra Allen #10

Year

1

Position

Middle

Height

6'0"

Home

Victoria, BC

High School

Belmont

Program

Arts & Sciences

Megan Beckett #17

Year

2

Position

Outside

Height

5'11"

Home

Victoria, BC

High School

Reynolds

Program

Criminal Justice

Robyn Bishop #15

Year

1

Position

Libero

Height

5'4"

Home

Nanaimo

High School

Ladysmith

Program

BSFL

Jacqueline Coulter #11

Year

1

Position

Outside

Height

6'0"

Home

Calgary, AB

High School

St. Mary's High

Program

UT

Taylor Ellis #4

Year

1

Position

Middle

Height

6'0"

Home

Nanaimo

High School

Ladysmith

Program

UT

Kathryn Fetting #1

Year

4

Position

Outside

Height

5'10"

Home

Lethbridge, AB

High School

Catholic Central

Program

Bus Admin

Stephanie Galitzine #7

Year

1

Position

Outside

Height

5'8"

Home

Victoria

High School

Lambrick Park

Program

UT

Lainey Jantzi #9

Year

4

Position

Middle

Height

6'1"

Home

Parksville

High School

Ballenas

Program

UT

Morgan Monkman #13

Year

1

Position

Outside

Height

5'11"

Home

Smithers

High School

Smithers

Program

UT

Erika Morris #8

Year

3

Position

Outside

Height

6'1"

Home

Prince George

High School

Prince George

Program

Bus Admin

Jenna Poole #14

Year

1

Position

Setter

Height

5'10"

Home

Winnipeg, MB

High School

Mennonite Brethren

Program

UT

Jamie Rodstrom #6

Year

4

Position

Libero

Height

5'6"

Home

Victoria

High School

Belmont

Program

Civil Engineering Technology

Mychaela Roelants #12

Year

3

Position

Libero

Height

5'8"

Home

Comox

High School

Highland

Program

UT

Jasmine Strandlund #18

Year

2

Position

Setter

Height

5'6"

Home

Victoria

High School

Lambrick Park

Program

UT

Emily Thorlakson #2

Year

2

Position

Middle

Height

5'11"

Home

Vernon

High School

Kalamalka

Program

General Studies

Michelle Zygmunt #5

Year

3

Position

Outside

Height

5'10"

Home

Abbotsford

High School

WJ Mouat

Program

CARPF
Coaches
Chris Dahl Head Coach
Home Town: Prince George, BC
High School: Kelly Road Secondary School
Degrees/Certification
Bachelor of Education, University of Victoria
Level 3 NCCP Coach
NCCP Level 1 & 2 Course Conductor
Coaching Experience & Highlights
Post-Secondary

Head Coach, Camosun Chargers Women's Volleyball 2010-present (2015 CCAA Bronze, 2015 PACWEST Silver, 2014 PACWEST Bronze)
VIU Mariners Men's Volleyball Asst. Coach 2007-09 (BCCAA Bronze 2009 & BCCAA Silver 2008)
Camosun Chargers Men's Volleyball Asst. Coach 2006-07
College of New Caledonia Men's Volleyball Head Coach 2005-06

International

2015 Team Canada Youth Women Asst. Coach
2012 Team Canada Jr. Women's Asst. Coach

Provincial Team

2014 Team BC 16U Girls Head Coach (Western Elites Gold)
2013 Team BC Canada Games Women Head Coach (Canada Games Silver)
2012 Team BC 19U Women's Head Coach
2011 Team BC 18U Women's Head Coach (National Team Challenge Cup Gold)
Team BC 2010 NTCC 18U Women's Asst. Coach
Team BC 2009 Canada Games Mens' Co-Head Coach (Canada Games Bronze; US Open Silver)
Team BC 2008, 2007, 2005 Western Elites 16U Boys' Coach (Western Elites Gold 2007 & 2005)
Team BC 2006 NTCC 18U Men's Co-Head Coach (National Team Challenge Cup Gold)

Other

Head Coach, Volleyball Centre of Excellence BC at PISE 2010-2012
Oak Bay High School Sr. Boys Asst. Coach 2007 (2007 AAA Boys Provincial Championships Gold)
Victoria Volleyball Association 2003-04, 2010 (2003 18U National Championships Silver; 2003 18U Provincial Championships Gold)
Lambrick Park Secondary Sr. Boys Head Coach 2000-04 (2003 & 2004 AA Boys Island Championships Gold)
Grande Prairie Wolves Volleyball Club 1995
Professional Contributions
VIA Sport Coaches Advisory Committee 2014-present
Volleyball BC Regional Coach 2004-06 & 2007-2010
Volleyball BC High Performance Committee Member 2007-2014
Prince George Youth Volleyball Club Director 2004-06
Chris Abra

Assistant Coach

Chris Koutougos

Assistant Coach

Ernest Friesen

Assistant Coach

Dustin Moore

Strength & Conditioning Coach

Matt Lumsdaine

Head Athletic Therapist

Lemuel Lau

Student Athletic Therapist

Rachel Hargreaves

Student Athletic Therapist
2015-16 Season Recap
During the 2015-16 season the Chargers women's volleyball team continued to build upon what has become an impressive home record.
Over the past two seasons on their home court at the Pacific Institute for Sport Excellence, the program has compiled a 20 win and 4 losses record in PACWEST conference play and a 21-5 record overall.
The Chargers anticipate continued success as Camosun hosts the 2017 Canadian Collegiate Athletic Association (CCAA) National Championships, March 9-11.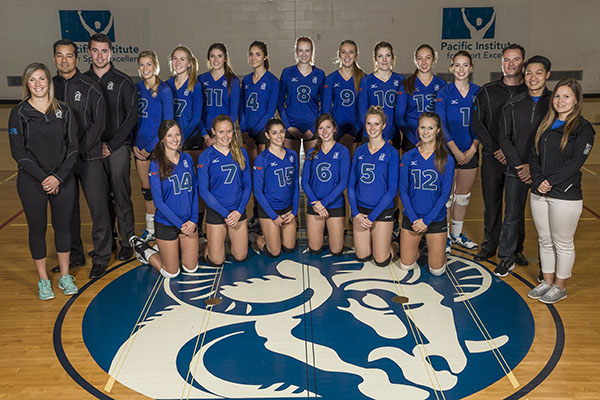 ---
Conference Results
PACWEST Provincial Championship
Finished Tied for 5th Place
PACWEST Season
Finished 3rd (13 Wins, 11 Losses)
---
Conference Awards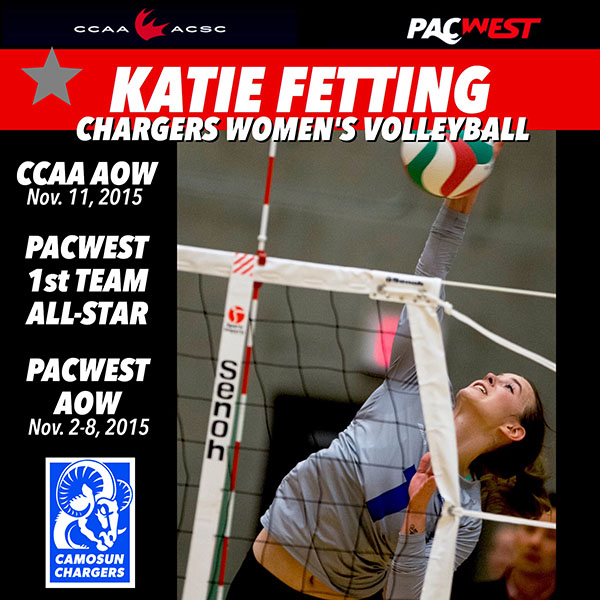 Katie Fetting
CCAA Athlete of the Week (November 11, 2015)
PACWEST 1st Team All-Star
PACWEST Athlete of the Week (November 2-8, 2015)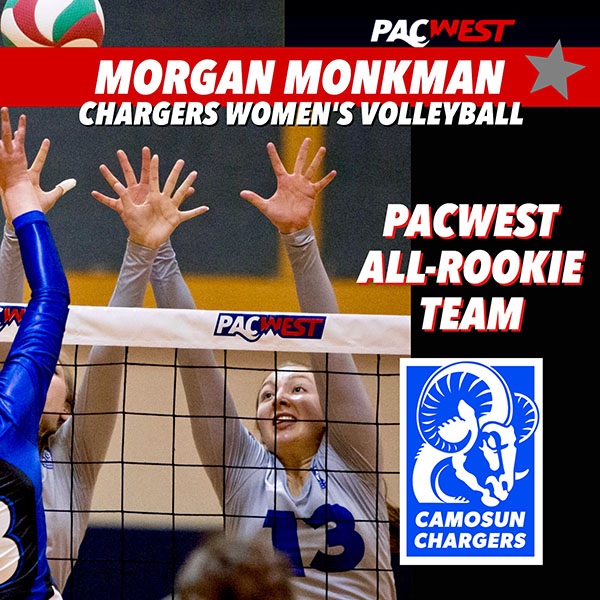 Morgan Monkman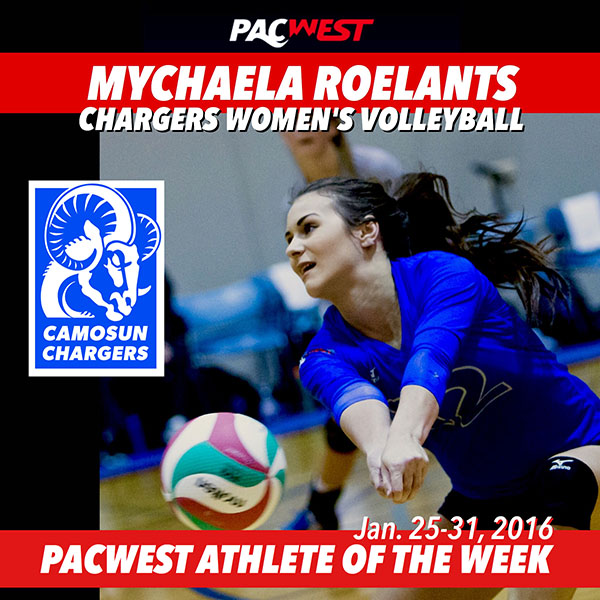 Mychaela Roelants
PACWEST Athlete of the Week (January 25-31, 2016)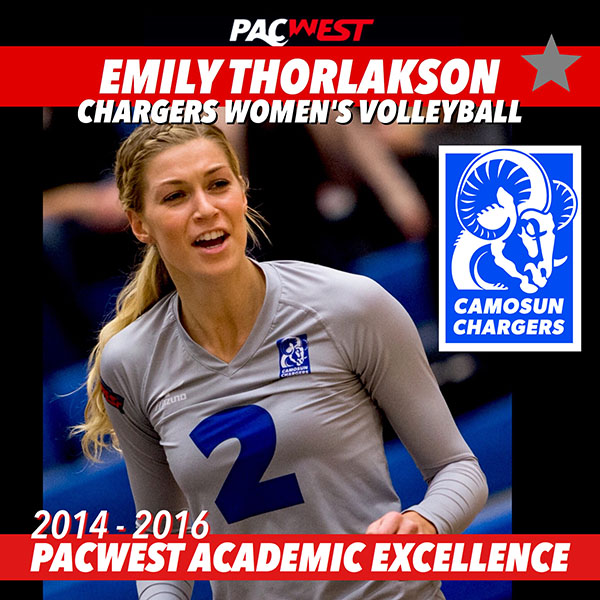 Emily Thorlakson
PACWEST Academic Excellence (2014-2016)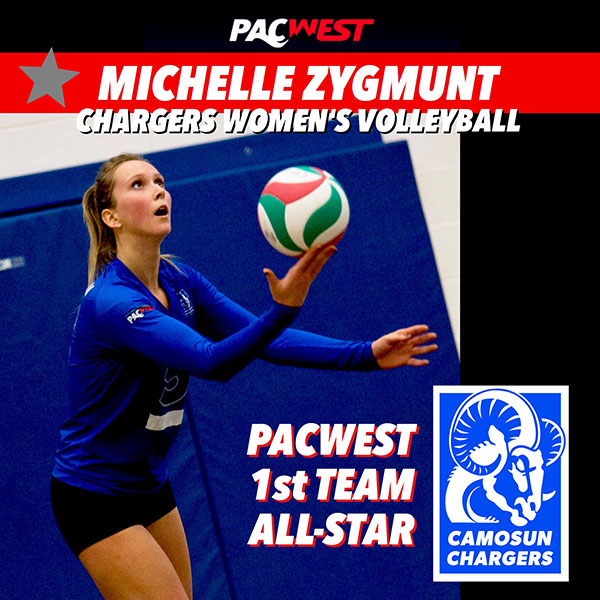 Michelle Zygmunt
PACWEST 1st Team All-Star
---
Team Awards & Graduating Players
From left to right:
Chris Dahl – Head Coach
Jamie Rodstrom – 4th Year Graduating Player (2012-2016)
Katie Fetting – Team MVP
Stephanie Galatzine – Team Leadership
Morgan Monkman – Team Rookie
Chris Abra – Asst. Coach