Camosun College is committed to creating and maintaining a healthy learning and working environment in which sexual violence and misconduct is not tolerated. In order to provide the key information, knowledge, skills and confidence required to support those who have experienced sexual violence or misconduct, and prevent this from occurring to others, we are developing educational offerings for employees and students.
Sexual Violence Awareness Week Feb 8-12, 2021
Camosun students and employees are invited to join in on a week of conversations, information, and workshops on the topic of Sexualized Violence Prevention, Feb. 8-12, 2021.
The Office of Student Support and the Camosun College Student Society invite you to a variety of engaging learning activities designed to create awareness around sexualized violence and support options on and off campus.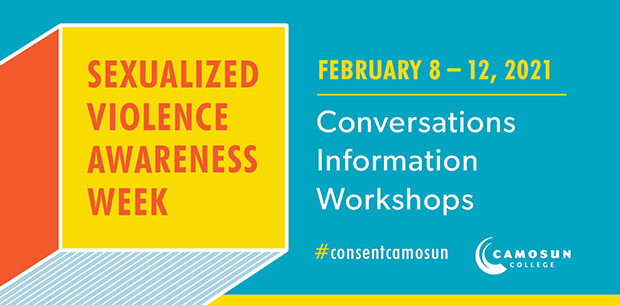 Sexual Violence Prevention and Education
Participating in a safe and respectful campus
Thank you for taking the time to learn about creating safer and respectful environments at Camosun and beyond. We invite you to explore these videos and this material and consider how you can contribute to a safe and respectful learning community.  Please explore the videos in any order that works for you.
Consent
Relationships & Boundaries
Active Bystander
How to Support a Survivor of Sexual Violence
---