Camosun Sexualized Violence Awareness Week 2021
Brought to you by Camosun's Office of Student Support & the Camosun College Student Society
Camosun students and employees are invited to join in on a week of conversations, information, and workshops on the topic of sexualized and gender-based violence prevention, Feb. 8-12, 2021.
---
Camosun Community Instagram Conversations
Tune in daily to Camosun's Instagram page @camosun for live conversations between members of our Camosun community with folks from local community support agencies. Hear how members of our Camosun community and representatives from Bridges for Women Society, PEERS, Men's Therapy Centre, Island Sexual Health, and the Victoria Sexual Assault Centre participate in sexual and gender-based violence prevention, consent culture, and how those impacted by sexual and/or gender-based violence can seek support.
---
Camosun Chargers and Consent Culture
Tune in to Camosun Chargers social media pages during the week of Feb 8-12, 2021 (@camosunchargers) to hear from our student athletes on the importance of consent and how they practice consent on a daily bases.
---
Camosun College Student Society Supporting Consent
Keep an eye out on CCSS social channels (@CamosunStudents) during Sexual Violence Awareness Week! Camosun College Student Society supports everyone learning and practicing consent. Sexual violence affects many folks on and off campus and CCSS supports a culture of consent as an important part of creating a safe, equitable and accessible learning space for all.
---
Understanding Camosun's Response to Sexual Violence - A Workshop for Camosun Staff and Faculty
Increase your understanding of Camosun's Sexual Violence Policy, your role in relation to this policy, and Camosun's responsibility and commitment to sexual violence prevention and appropriate, respectful, and supportive response to those impacted.
Wed, Feb 10, 2021 | 1–2pm | Join the meeting via Teams Meeting Link
---
Be More than a Bystander Workshop
Although this workshop is not open to the wider Camosun Community at this time, we want to acknowledge the Electrical Trades Foundation program for hosting a Be More than a Bystander Workshop for its students as a part of Camosun's Sexualized Violence Awareness Week. We acknowledge the staff, faculty and students of this program for taking an important and active role in the prevention of sexual violence.
---
Sexual Violence Prevention Resources
Ever felt unclear on what consent actually means? Unsure how to set a safe boundary? Not sure what being an active bystander means? Uncertain how to support someone who has been impacted by sexual violence?   
We invite you to check out Camosun's Sexual Violence Support and Education and take some time to watch these short helpful videos and reflect on how you can participate in creating a safe and respectful Camosun community.
---
For more info:
Office of Student Support
Email: oss@camosun.ca
Call: 250-370-3841 or 250-370-3046
Download the poster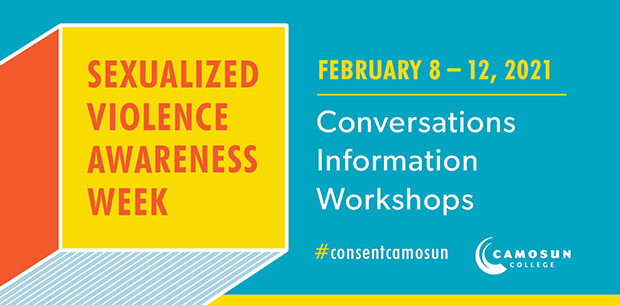 Watch for #consentcamosun on your social channels.
Last updated: January 22, 2021 3:56 pm