Quick Links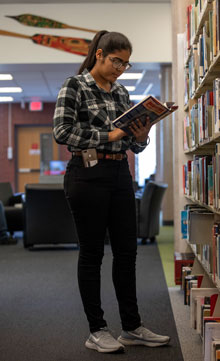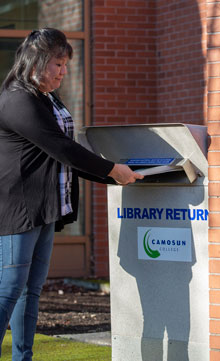 Borrowing materials
you are responsible for all materials borrowed including any charges on items that are overdue, lost or damaged
borrowing privileges will be suspended when items are long overdue and/or when library charges reach $25 or more. Course registration and transcripts may also be withheld
library notices are sent by email. It is your responsibility to ensure the college has your email address
community borrower services are temporarily suspended due to COVID-19
Loan periods & limits
Camosun students, faculty & employees
Item
Loan Period
Maximum Renewals
Long Overdue
Books
4 weeks
2
Replacement cost + $15 fee
DVDs, Videos

4 weeks

2
Replacement cost + $15 fee

Textbook Reserves
Maximum 3

3 days
2
$10.00/day for each book
Journals and Magazines

4 weeks
2
Replacement cost + $15 fee
Renewals
Renew your items by emailing library@camosun.ca. Renew before the due date to avoid fines.
Library items cannot be renewed if a hold has been placed by another person.
Returning material
Books, journals, magazines, and textbook reserves can be returned to either library using the drop box located outside of the library. In person return is unavailable.
Please return materials in the same condition you borrowed them.
Appeals
If you think the library has made an error or if you have a special situation that made it difficult for you to return or renew materials, you may submit an appeal by completing this form.
If you are not satisfied with the decision of the committee, restate your case in a letter addressed to Sybil Harrison, Director of Learning Services.
Borrowing from other libraries
Due to COVID-19 many libraries have had to adjust their services. Contact the participating library before visiting to find out their services during COVID-19.