Advance your career in provincial or local government.
Camosun offers professional programs that provide you with the opportunity to upgrade your skills with an advanced credential while learning in an environment that recognizes your needs and lifestyle. These programs are unique with many of the courses available by distance learning so you can maintain a full-time job while taking courses to advance your career.
Starting a new career!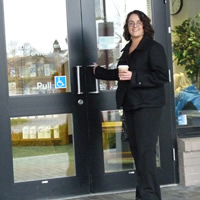 Nurie Aliperti joined the BC Public Service after graduation. "I found that, while I did have a lot of business experience, the Public Administration (PADM) program was very helpful in getting my first placement with the Public Service. I started with an entry-level position, but I know my credentials will mean I'll be considered for advancement in the future."
Aliperti's career objectives include learning as much as she can, and she hopes to return to Camosun to finish the four-year Bachelor of Business Administration. She would also like to do the BC Public Service leadership program, and her success at Camosun has given her the confidence to pursue all options.
"You go forward with a lot more confidence, knowing it's not as intimidating as you thought it was. Right now I'm content to learn as much as I can as a permitting administrator, and gain some experience. Perhaps in a year or two, I'll be ready for the next step."