q'aa kʷiit Grace-Anne Thunder Ahousaht, Indigenous Advisor
Office: E 272 F & CBA 128 • Email: thunderg@camosun.ca • Phone: 370-4870/ 3350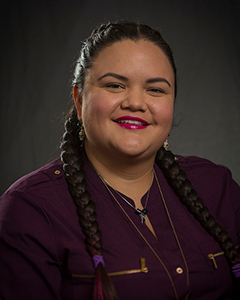 ʔukłaas Grace-Anne Thunder, my quuʔas/Ahousaht name is q'aa kʷiit. I am from the Ahousaht nation belonging to the Nuučaan̓ułʔatḥ, I also have German, Polish, English, and Austrian ancestry. With full heart gratitude I am working, learning, and living on W̱SÁNEĆ and Lkwungen territory.
I am excited, and honoured to be an Indigenous Advisor with Eyēʔ Sqȃ'lewen. Previously, I was in my fifth year at the University of Victoria studying Humanities with a focus on Indigenous studies and linguistics. I have also had the pleasure of studying Indigenous film, and Social work.
My passions include language revitalization, Indigenous Education, Indigenous Governance, and land-based learning. I am very grateful to be learning my Nuučaan̓uł language in the Ahousaht dialect, and to be a part our nation's language revitalization.​
I look forward to working with everyone here at IECC, and Camosun College to support our Indigenous students, and community. I love having the opportunity to support current, and prospective students in their journey to discover, and reach their educational, and career goals.
Hišukʔiš c̓awaak-Everything is one, and all is interconnected.
ƛ̕eekoo, ƛ̕eekoo
Čuu