Dawn Smith Nuu-chah-nulth from Ehattesaht, Facilitator TTW | Education Developer CETL
Office: CC 236 • Email: dsmith@camosun.ca • Phone: 250-370-4991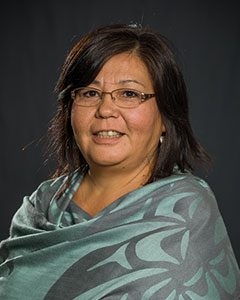 BA Political Science, Minor in Indigenous Studies; MA Indigenous Governance; PhD Educational Leadership and Policy
ÍY SȻÁĆEL (good day),
My family name is Sii-yaa-ilth-supt, and my English name is Dawn Smith. I am Nuu-chah-nulth from Ehattesaht, but grew up in W̱SÁNEĆ (Tsawout) with my late parents Clyde and Norma Claxton. 
Here at Camosun, I am an Education Strategists in the Center for Excellence in Teaching and Learning.  I assist faculty in the development of curriculum related to indigenization and/or sustainability.
My post-secondary education includes a Bachelor of Arts in Political Science with a Minor in Indigenous Studies (2003) and a Master of Arts in Indigenous Governance (2007) from the University of Victoria. I have a doctorate (2018) in Educational Leadership and Policy from the University of British Columbia. My research interests continue to include, Indigenous self-determination, Indigenous women and activism, educational leadership and 'unsettling' the academy (i.e., decolonization, indigenization, reconciliation, etc.).
HÍ,SW̱ḴE (thank you), Dawn
Courses Teaching/Taught:
Camosun Courses
Indigenous Studies (IST) 243: Comparative Indigenous Issues
Indigenous Business Leadership (BL) 105
University of Victoria Courses
LE,NONET Preparation Seminar
LE,NONET Community Internship
Indigenous Education 373
Child and Youth Care: Indigenous Context 230
Indigenous Studies 200A and 200B
Directed Reading Indigenous Studies 490