Jen Roberts Métis, Operations Assistant
Office: E 272 • Email: robertsj@camosun.ca • Phone: 250-370-3132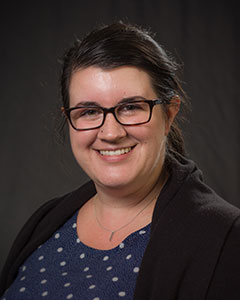 MA in Anthropology
Tawnshi/Hello! I am Métis, with Mohawk, Norwegian, and English ancestry. I was born in Port Hardy on Kwakwaka'wakw territory and have been a visitor to Lkwungen and W̱SÁNEĆ territory for 18 years. I give thanks to the Lkwungen and W̱SÁNEĆ peoples for their generousity and kindness in allowing me to consider this land home.
I began my post-secondary education at Camosun before going on to UVic to complete an MA in Anthropology. It brings me a lot of joy to be back at Camosun as an employee and to be welcomed to Eyēʔ Sqȃ'lewen as the Operations Assistant. I work mostly behind the scenes, supporting the Eyēʔ Sqȃ'lewen team with planning and coordination.
When I'm not at work, I can likely be found processing and spinning fibre, weaving, or on the land, gathering plants for dyes and food!
Please come by Eyēʔ Sqȃ'lewen and say hello! Pishshapmishko/Take care!