Faye Martin Gitxsan, Indigenous Support Coordinator
Office: F 305 • Email: martin@camosun.ca • Phone: 250-370-3486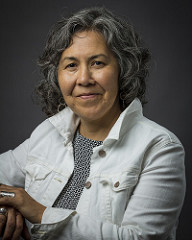 Greetings! I am Giskaast from the House of Dawa Muux in Gitxsan territory. I thank the Coast Salish people for allowing me to live and work on their land.
I have worked at various positions at Camosun College for nearly 20 years. When I started working in Indigenous education, I was an Instructional Assistant at the Friendship Centre. Then I became an Advisor in Centre for Indigenous Education & Community Connections. I have the pleasure of advising at the Saanich Adult Education Centre and Songhees Wellness Centre as well as working with students at Lansdowne Campus.
I am always inspired by the depth of knowledge and wisdom that students bring to Camosun College.
Drop by and say hello.