Sekwan Wabasca Nēhiyaw & Métis, Indigenous Advisor
Office: E 272 • Email: wabasca@camosun.ca • Phone: 236-638-1340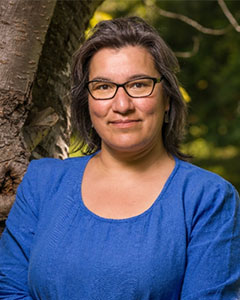 Tansi, my name is Sekwan and I'm Nēhiyaw and Métis from northern Alberta. From my maternal side, I am Nēhiyaw from Driftpile, Alexander, and Papaschase First Nations, and from my paternal side, I am Métis from Buffalo Lake Metis Settlement.
I returned to school in 1994 because it was the only way I knew how to find out more about my culture as I was adopted into a non-Native family at birth. Since then I've learned much about who I am, where I come from and where I want to go. It's an ongoing journey of learning, and one I'll do my whole life. I returned to school after being away from it for a number of years, and I remember feeling scared and intimidated by the school and other students. However, my advisors were wonderful and helped me make the most of my journey. Today, I love working with people to help them find their own success! My job is to help students and potential students make informed decisions about their goals.
Every journey, be it large or small, begins with one step. I invite you to come in and see how that first step unfolds!