Welcoming more than 1,100 students from over 50 nations
The Centre for Indigenous Education & Community Connections offers support services and Indigenous programs for Indigenous students and provides links between Camosun College, students, local Indigenous organizations and First Nations communities. Indigenous Advisors will help you make educational and career decisions so that you can move forward with your goals.
We seek knowledge in these territories
Camosun College serves the communities of southern Vancouver Island and the south Gulf Islands that are located in the traditional territories of the Lkwungen (Esquimalt and Songhees), Malahat, Pacheedaht, Scia'new, T'Sou-ke and W̱SÁNEĆ (Pauquachin, Tsartlip, Tsawout, Tseycum) peoples.
We acknowledge our traditional hosts and honour their welcome and graciousness to the students who seek knowledge here. Read about the name "Camosun".
Student-centred, community-focused learning
The Camas plant as a symbol of our being and doing
Camas is indigenous to the local lands. In May these beautiful, six-petalled lilies abound in the places they have been allowed to survive. Traditionally the bulbs were an important trade item and a staple food of the Indigenous peoples.
Honouring the qualities of beauty, survival, utility, and sustenance that the camas embodies, Eyēʔ Sqȃ'lewen has adopted the plant as its visual model to symbolize the services we provide to Indigenous students and communities. The bulb represents Indigenous community and knowledge, from which our strength is derived. Its stems and leaves represent the relationships through which we do our work. The centre of the flower embodies the students we serve and each petal signifies one of our functions.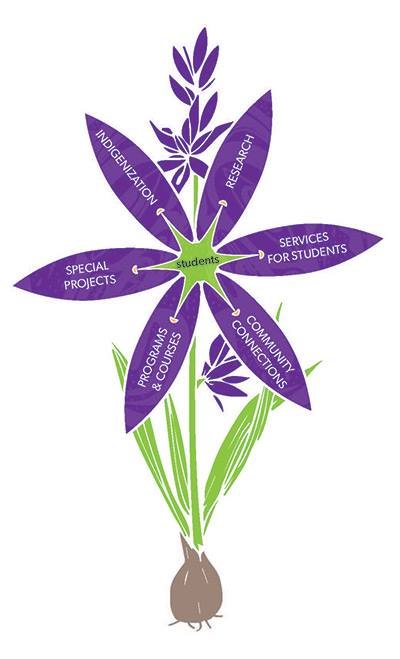 Our name
We have officially added the phrase Eyēʔ Sqȃ'lewen (pronounced Eye. sh-KWAW-leh-win) to our name and are now known as Eyēʔ Sqȃ'lewen – The Centre for Indigenous Education & Community Connections (or IECC).
Eyēʔ Sqȃ'lewen is a Lkwungen word offered to us by Lkwungen Elder Elmer George. The word references "good heart, good mind, and good feelings" – the experiences we want you to have during your journey here.