Honouring and thanking our donors
Funds from the Camosun College Foundation touch lives and help students meet their educational goals. Indigenous Education awards have been generously provided by special, visionary donors and organizations to help support Indigenous students.
We want you to know a little about those who have been so supportive of your education. Below is a brief background of some of the donors.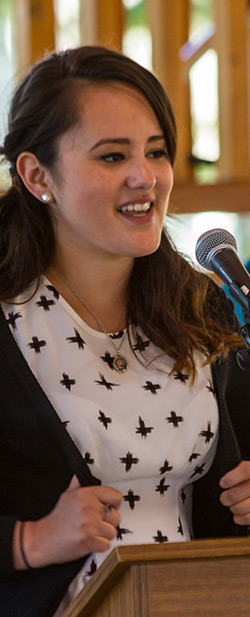 Canadian Federation of University Women (CFUW)
CFUW is a non-partisan, voluntary, self-funded organization with over 100 CFUW Clubs, located in every province across Canada. Since its founding in 1919, CFUW has been working to improve the status of women and to promote human rights, public education, social justice, and peace. Every year, CFUW and its Clubs award close to $1 million to women to help them pursue post-secondary studies.
Coast Salish Employment and Training Society (CSETS)
Coast Salish Employment & Training Society was created in 1997 through an agreement between 19 Coast Salish First Nations and 3 Aboriginal Friendship Centres, funded by Service Canada ASETS. The purpose of CSETS is to assist the member Nations so that they may gain employment training or attain funding that will allow them to be employable. Employment for our Nations is the main goal for CSETS. 
First Nations Health Authority and Island Health
The BC First Nations Health Authority (FNHA) is the first province-wide health authority of its kind in Canada. The FNHA is responsible for planning, management, service delivery and funding of health programs, in partnership with First Nations communities in BC.
Island Health provides health care and support services to more than 765,000 people on Vancouver Island, the islands in the Salish Sea and the Johnstone Strait, and the mainland communities north of Powell River.
First Unitarian Church of Victoria
First Unitarian Church of Victoria is a welcoming community, energized by the diversity of beliefs, identity, and experience that each person brings. They encourage their children's curiosity and nurture their open and loving nature. This award has been established to recognize and honour Indigenous students who have overcome great obstacles to begin the process of achieving their dreams.
Mr. Art Howard
The Eulau Howard Memorial Award is IECC's oldest endowment. It was established in the late 1980's by Mr. Howard in memory of his late wife, Eulau. Mr. Howard was touched by an article he read in MacLean's Magazine and then by hearing Alex Nelson speak. He established this award to recognize the community generosity that is so often practiced amongst Indigenous people.
M'Akola Housing Society
In the late 1990's, M'Akola Housing Society decided to establish an award that would support urban Indigenous people in their post-secondary endeavours. Since then this gift has helped many students. IECC was happy to take over administration of the award in 2008.
Mrs. Dorothy Price
Mrs. Dorothy Price recognized the needs of Indigenous people who are seeking education to benefit their lives and their communities. In 1997, at her passing, she left an extraordinarily generous gift to Camosun College to support Indigenous students. In many Indigenous traditions there is a Treasure Box of precious gifts. To honour Mrs. Price's wishes, Camosun College has developed the Dorothy Price Treasure Box of Awards for Indigenous students. The awards that have been established recognize the four parts of human beings: the intellectual; the physical; the spiritual; and the emotional. Her generosity has resulted in us being able to provide the following awards to about 20 Indigenous students each year.
Linda and William Ross
Linda Ross is the Managing Broker for Linda E Ross Property Management. She has graciously served on the Foundation Board of Directors and the Board of Governors for Camosun College. William Ross who is the Business Manager and Development Consultant for LER has an extensive background in the Energy and Environment world as well as being an experienced Development Consultant. 
Salish Weave Fund
Salish Weave, established by George and Christiane Smyth, is a large private collection of contemporary Coast Salish art that weaves together the distinctive art form, designs and style of established and emerging Salish artists. The collection stems from and mostly resides on traditional Coast Salish territories of British Columbia. Salish Weave seeks opportunities to raise public awareness and honour Salish communities http://salishweave.com/sw2017/about-salish-weave.
Gillian Sanderson
As a young woman growing up in England during WWII, Gillian had the opportunity to study music in Austria and Germany. Meeting people in post-war Europe changed the direction of her life, and after further studies in social work and musicology she found fulfilling work as a sessional lecturer and counsellor in Alberta. It was there she began learning the harmful consequences of colonization for Indigenous people. In 1991, Gillian retired to Vancouver Island, settling in Cowichan and Coast Salish territory. "I've always had a great interest in and admiration for Indigenous history and culture," she said.  She spoke about her gratitude for being on this beautiful island, with its big trees, flowers and the ocean.
Gillian established a new endowment to encourage Indigenous women who are in the process of reclaiming or renewing their Indigenous identity while studying at Camosun. "I hope to encourage and support Indigenous women as they reach for their dreams, enjoying similar opportunities to those I had," she said.  Gillian passed away during the summer of 2019.  Part of her legacy is this gift to Indigenous women who are reclaiming their identity and power.
Art Thompson [Tsa Qwa Supp] Ditidaht
The late Art Thompson cared deeply about education, his Nuu-chah-nulth people, and Camosun College. He was a residential school survivor who found himself as a learner at Camosun. At least six members of his immediate family are also Camosun alumni. Art established this award in 1999 to support Nuu-chah-nulth students who attend Camosun and who plan to use their education to lift up the Nuu-chah-nulth Nation and its people.
Camosun/UVic Indigenous Student Transition Award
The Office of Indigenous Academic and Community Engagement at the University of Victoria provides this award to students transitioning from Camosun College to UVic.
The Allen & Loreen Vandekerkhove Family Foundation
The Vandekerkhove Family Foundation has been extremely generous to Indigenous students at Camosun and to education overall. This family foundation is supporting the education of future health and human services care providers for our communities.
The late Justice David Vickers
The late David Vickers, a well-known and highly regarded lawyer and judge, was both professionally and personally committed to equality and justice for all people. He believed neither was possible without access to education and community participation.
Ms Winona Wood
Winona Wood was a university professor when there were very few female professors. She wanted to see women become independent and strong. She established what was originally the CENELELEN Award in 1995. After her passing, her family asked that the award name be changed to honour her memory.
United Way of Greater Victoria
United Way has been changing people's lives for the better since 1930! We help kids grow up great, help families feel a sense of belonging and make sure our neighbourhoods are safe and supportive places for everyone.
W̱SÁNEĆ School Board
The W̱SÁNEĆ School Board is committed to giving financial help to Elementary, Middle School, and Secondary School students to the best of its ability in order to contribute to their academic success.