Surrounding students with rich culture
Every year, IECC is involved in a number of projects and events intended to enhance Indigenous student success and support community engagement in education.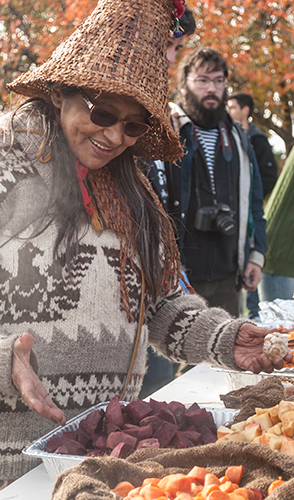 Enhancing Indigenous student success
In addition to the supports provided to Indigenous students by the college, you have access to services made possible by the Aboriginal Service Plan (ASP) which is annually funded by the Ministry of Advanced Education.
The ASP is intended to:
increase Indigenous student access, retention and completion
strengthen community partnerships and collaboration in Indigenous post-secondary education, and
encourage post-secondary institutions to make their programs more receptive and relevant to Indigenous students.
ASP funding has enabled Camosun to hire a Community Liaison, launch the Elders Initiative project, and offer a range of projects to deepen relationships with local communities.
Elders Initiative
The Elders Initiative includes local First Nations and Métis Elders who participate in ceremonies, events, healing activities, and are available to help support students and faculty by participating in classrooms. Furthermore, the Elders Initiative provides Indigenous students with access to more traditional mentoring and counselling. Learn more.
Indigenization Project
The ongoing Indigenization Project seeks to incorporate Indigenous ways of knowing, being, doing, and relating into the ways of the college. The goal of the Project is to ensure that Indigenous ways of seeing and experiencing the world are reflected in the way Camosun operates and that all non-Indigenous students come away from Camosun better prepared to live alongside, negotiate with, and build better relationships with Indigenous people.
Celebrating Indigenous culture
As a student, you'll enjoy various cultural activities and events including a Welcome Feast each September, National Indigenous Day activities, Elders' teachings, and the Songhees Pit Cook Demonstration and more. These events are dedicated to enhancing your cultural and spiritual well-being.