An information resource for Camosun's Accounting & Finance students.
Check out upcoming Camosun, CPA recruiting and industry events and activities
---
Upcoming Events for Accounting & Finance Students



Are you an Accounting or Finance student, considering a CPA designation or looking for a co-op or articling position in 2022?
If so, then join us virtually on Friday, Sept 10 for another opportunity to further your career.
Office of the comptroller General 2:30-3:15
Learn about the new pre-approved CPA articling positions that start Sept 2022, with applications by Sept 17, 2021.
Learn about other opportunities available with the Provincial Government
Comprehensive Information Package (PDF)
For further details and to register: https://educationthatworks.camosun.ca/publicEvents.htm?eventId=1140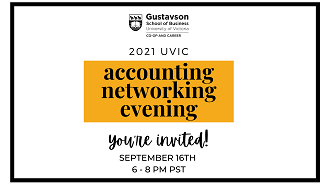 UVic Accounting Networking Evening – virtual edition - September 16, 2021 – 6-8 PM Pacific Standard Time (PST)
UVic is hosting its annual Accounting Networking Evening event virtually (via Zoom) and students can sign up to meet with a set list of six employers.  Students will rotate through these employer meetings with the same small group, and these small groups will be able to meet reps, ask questions, and make a good impression!  The employers attending will be looking to hire for co-op and or career CPA articling positions in the near future. 
There are three employer options you can choose to meet with:
Option 1: MNP, Dusanj & Wirk, Baker Tilly, Rise CPA, Chan Nowosad Boates, Cameron Izard Snell LLP
Option 2: Grant Thornton, Schibli Stedman King, Crowe Mackay, BDO Canada LLP, Chan & Associates CPAs, Trenholme & Company
Option 3: KPMG, Dickson, Burkett, Hutcheson & Co, Arbutus Group CPA, CPCM
Registration: Students can only register for one option.  To register, please email bizcoop.coordination@uvic.ca by September 9th with your full name, institution name, and your preferred option.  Spots are available on a first come, first served basis and you will be notified after September 9th with confirmation or waitlist details.
Improve the professional look of your Zoom by using one of the Camosun backgrounds:


CPA Student Resources
CPAEF Bursaries and Scholarships
Every year CPAEF offers a bursary program to BC students based on financial need with two deadlines to apply each year: May 15 and November 15. Scholarships are also available to students attending one of eleven BC post-secondary institutions that do not have named awards: applications are due May 1.
Students can visit the CPAEF website for application forms.
CPABC Campus Recruitment Opportunities & Events
Events compiled by CPABC to facilitate discussion between students and employers throughout the academic year. 
Campus Recruitment Opportunities and Events (bccpa.ca)
PEP Candidate Guides:
Provide a good overview of the program.
CPA Way:
These resources provide an overview of the problem-solving approach used in the PEP.
Module Resources:
You can find sample cases and an exam blueprints for each module on the following pages.
Capstone 2 – N/A as this is a CFE prep module. See CFE section below.
CFE Resources:
CPABC Program Information
Questions about the recruitment process? Find answer to common questions like "When do firms accept applications, interview candidates, and make offers?" and more. Download the FAQs.
To find out more about CPA education, including the CPA Prep modules and Module zero, visit the CPA recruiting website and the CPA Western School of Business.
For the latest news and event notices follow CPABC on Facebook, Twitter, YouTube and Flickr.