Welcome to the School of Arts and Science.
Are you interested in planets, literature, gender studies or international conflict? How about contemporary issues, evolution, statistics, or anthropology of food? You will find that the School of Arts and Science is an excellent choice for a broad range of studies.
Today, more than ever, it is essential that graduates are accomplished in critical thinking, problem solving, and effective communication, and that they have the flexibility to adapt to the ever-evolving challenges and careers of tomorrow. An education in the Arts and Sciences will help you prepare for your chosen path in work or study by developing these necessary skills. Whether you are in a full-time Arts and Science program, or you are taking a few courses to explore your options and interests, you will find professional, experienced instructors and a welcoming, supportive environment to engage your mind and explore your passion for learning.
Our School offers transferable courses in subjects such as English, Math, History, Psychology, and Physics, as well as programs and courses in exciting areas such as Environmental Technology, Comics & Graphic Novels, Applied Chemistry and Biotechnology, Criminal Justice, and Creative Writing. Our students graduate well-prepared for the demands of advanced study or the workplace.
Arts and Science studies provide you with an education that is local and global, relevant and adaptable, thought-provoking and challenging. We look forward to learning with you.
Sincerely,
Debbie Hlady
Dean of Arts & Science
Contact: Charity Calder
Assistant to the Dean
250-370-3906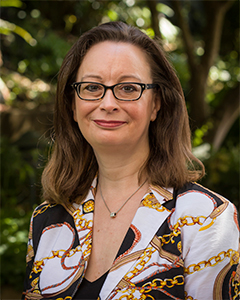 Dean's Honour Roll
Congratulations to the School of Arts & Science students who have earned their placement on the Dean's Honour Roll by achieving a term GPA of 8.0 or higher. A student must be enrolled 9.0 credits or more or for those students who have a reduced course load accommodation it is 6.0 credits. Competency Based Grades are not calculated in the grade point average.
The Dean's Honour Roll recognizes the outstanding academic achievement of students. You will receive an Honour Roll letter from our Dean and your transcripts will note this achievement.