Camosun hosts visiting artists in a lecture format, allowing students to learn from professional artists and other members of the art community. Free admission, free your mind.
Visiting Artist Series
These artists will be coming to speak to the Camosun community. These free events are open to the public. For more info please contact John Boehme at 250-370-3512.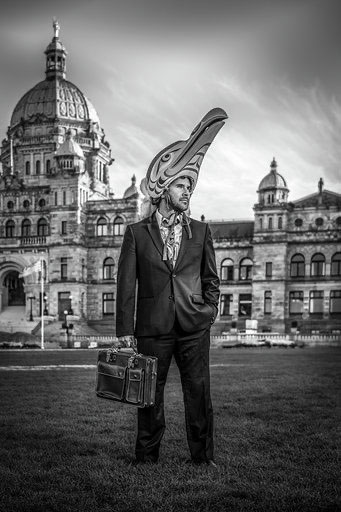 With mask in front of Legislature Buildings
Rande Cook | Cancelled | Lansdowne Campus
Rande Cook is an Indigenous artist from the Kwakwaka'wakw First Nation on Cormorant Island, off the northeast coast of Vancouver Island. His grandparents, Gus and Florence Matlipi, raised him with strong cultural views and ties to his rich native heritage. Surrounded by their teachings and the beauty of land and art, Rande discovered his passion for creativity at a young age.
In 1991, Cook moved to Victoria to attend high school, where his passion for Native art grew stronger. Although he perfected both Indigenous and western forms of art, he was most drawn to the strong classical form of Northwest Coast art. He practiced the styles of many different nations, but focused primarily on the northern tribes of Vancouver Island.
Rande Cook has worked with many great Indigenous artists, including mentorships with Native artists Robert Davidson (metal work) and Calvin Hunt (woodworking), and an apprenticeship with master carver John Livingston. He is also skilled at jewellery making, influenced by the work of his brother, William Cook Jr., and his cousin, Patrick Seaweed, who are both jewellers. Most recently, Rande traveled to New York City to study with repousee and chasing master Valentin Yotkov.
Rande Cook's Indigenous art works can be seen in many galleries in the United States and Canada, as well as in collections worldwide. He now resides in Victoria where he continues to push himself in his creativity by finding many new inspirations in new mediums.
The Visual Arts program thanks our recent visiting artists: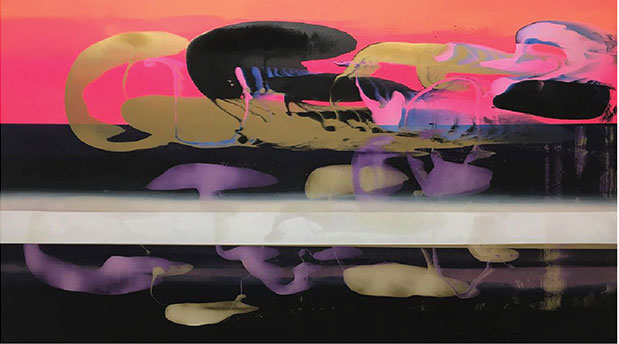 Spectral 9x16 ft acrylic on canvas
Painter
Sara Robichaud completed her MFA at UVIC (2009) and her BFA at Queen's University (1995). She has taught at the Surrey Art Gallery, VISA and UVIC (during MFA). Sara has been a GOLDEN Certified Working Artist since 2006.
Robichaud's work is rooted in formalist painting, engaging the viewer in an inquiry between the atmospheric and lyrical qualities of the form and the hard physicality of their material. Her process includes: staining, layering from chalky opaque paints to transparent saturated colours, masking, scraping viscous gels and using lace as a stencil. Enmeshed with personal life experiences, Sara explores generational feminine themes with an alluring and original visual language. Sara is represented at Gallery Jones (Vancouver) and Herringer Kiss Gallery (Calgary). Her work has been exhibited nationally and at international art fairs in Toronto, New York and Los Angeles and exists in numerous private / public collections in North America and the Middle East.
The Visual Arts program thanks our recent visiting artists:
---
---
---
---
---
---
---
---
---
---
---
---
---
---
---
---
---
---
---
---
---
---
---
---
---
---
---
---
---
---
---
---