Every spring, CETL offers Walls Optional, a one-day conference for faculty and staff focused on teaching, learning, and technology.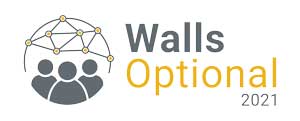 Walls Optional 2021 - Virtual

Date: Thursday, April 29, 2021
Keynote speaker: Mary Burgess, Executive Director of BCcampus
Recorded Sessions
Welcome back Walls Optional!
The college's signature event showcasing teaching and learning innovation and excellence resumes this year with an open play book. Our keynote speaker, Mary Burgess, Executive Director of BCcampus, is a vibrant and inspiring presence in BC post-secondary education and long-time supporter of Camosun College.
This year, we invited faculty and staff to speak to the themes and experiences that mattered to them and the result reflects the wide range of interests and activities of our community, from brewing science to gamification, from open resources to inclusive hiring, from less is better to a conversation about the past year's losses, changes, and gains.
Everyone is invited to attend, whether you are new to the college in a term instructor role, or you are a seasoned instructor, an administrator or in an educational support role. This day is for everyone.