The Retreat Experience of a Lifetime for Post-Secondary Educators!
If you are interested in enhancing your teaching and in achieving more effective learning for your students, then this seminar is for you. You will learn about and reflect on the teaching challenges faced by educators in post-secondary institutions. Regardless of whether you teach full-time or part-time, are an experienced teacher or new to teaching, this seminar welcomes you.
Date

Monday, May 9 to Thursday, May 12, 2022

Location
Please note this seminar is for Camosun faculty and enrolment is limited to 15 registrants. If you have any questions, please email Martha McAlister or CETL.
*The seminar is made possible through the financial support of the CCFA PD Fund.
Hosted by Camosun College, this event usually occurs in May, every second year, at the Honeymoon Bay Lodge & Retreat Centre which is located near Lake Cowichan, BC.
Needs-based format
For over 25 years, college educators representing a wide variety of subject matter areas and teaching experience have gathered in locations throughout North America for this intensive seminar. It is a unique opportunity to learn about and reflect on the teaching challenges faced by educators in post-secondary institutions. The format, which is minimally structured, evolves from an ongoing assessment of the participants' needs as the seminar progresses.
Learn from other faculty
Seminar participants engage in a learning process of shared information and experiences, self-reflection, and action planning as they explore a variety of teaching strategies, innovations, instructional challenges and solutions brought to the seminar by the participants. The seminar is built on the philosophy that one of the most powerful forms of professional development for faculty is faculty learning from one another.
Striving to be great
The theme underlying all seminar activities is the quest to identify the nature of the 'Great Teacher.' As in any quest, the questers learn much about themselves. The seminar is not meant to be a 'reward' for accomplished teachers; it is not limited to the already 'great'; rather, it is designed to appeal to those who are striving to be great.
Seminar goals
celebrate good teaching
inspire faculty to venture beyond the limits of their own specializations and environments in search of transferable ideas and the universals of teaching
discover realistic, creative approaches to teaching and learning
promote introspection and self-appraisal by providing a supportive environment in which participants may seriously reflect on their attitudes, methods and behavior as teachers
stimulate the exchange of information and ideas by building an expanding network of communication among teachers in higher education
renew the commitment to student learning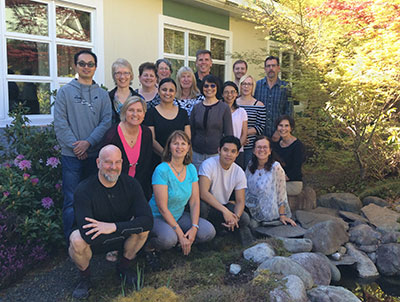 Seminar participants, 2019
"The best thing about this retreat was building stronger relationships with colleagues, building trust, sharing information and inspiration, laughing and relaxing together, and playfully digging into topics of interest about teaching.
"At work we pass each other in the halls or exchange a few minutes at events but do not have the protected time to really meet and get to know one another and talk about teaching."
2015 seminar participant
"The best thing about this retreat was... Time for discussion & reflection, Really getting to know instructors from other subject areas and learning from them."
2017 seminar participant
"The diversity of participants was so rich!"
2017 seminar participant
"The best thing about this retreat was a chance to connect with others around pedagogy because it gave space and time for rich dialogue."
2015 seminar participant