Services and Supports
Instructional design
Instructional designers provide support for faculty who are interested in furthering their expertise in the planning, design, development and delivery of online and blended courses. Individual and group consultations are available.
---
Training
Face-to-face and online training opportunities are available to assist beginner to advanced faculty with D2L and various educational technologies.
Visit eLearning workshops at Camosun for a detailed list of workshops being offered for your spring SD. For a list of all the learning opportunities offered by CETL, please visit the CETL events calendar.
---
Technical and multimedia support
Comprehensive technical and multimedia support is available through email, phone, or by drop-in. Primarily focused on the use of D2L, services include help with set up and enrolment processes, incorporating multimedia, access and technical questions. In addition, support is provided for other college supported education technology such as WordPress, Camtasia and Respondus.
---
Educational technology pilots 
Support is offered to assist faculty with determining the feasibility of various educational technologies and provided support for planning, integration and roll-out.
---
D2L on-demand training course
Our D2L On-Demand Training course provides on-demand training tutorials for faculty who want to learn about D2L, Collaborate, and Kaltura.
If you are already using D2L as an instructor, click on the Training tab within the My Courses widget on the main D2L Homepage to get started. Faculty who are not currently enrolled in D2L and would like access to the tutorials are advised to email eLearning support at eLearning@camosun.ca to obtain a login.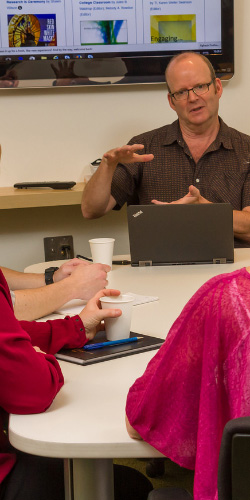 D2L Upgrades
Camosun's D2L is upgraded on the last Friday of every month and no outages are anticipated.
If you want to find out more about specific changes, visit the eLearning blog.
Principles of flexible learning
Services and supports provided by this unit are grounded in the principles of flexible learning:
Learner-Centred

Flexible learning incorporates both blended and online approaches so that students can choose how, when, and where they study.

Accessible

Accessible design of online course components enables all students to access their web-based content and educational technologies regardless of their location, experience, device, or abilities.

Inclusive

Flexible learning requires a focus on designing online learning environments that are respectful and supportive of audiences who typically face barriers when entering post-secondary education: women, First Nations, students with physical and learning challenges, new Canadians and students who are located in remote and/or rural locations.

Innovative

A rapid prototyping development model is incorporated to test assumptions, solicit learner feedback and push boundaries in flexible delivery. Research agendas are developed and results are published.

Transformational

Creative options for face-to-face components are developed as faculty begin to redesign their face-to-face experiences to make best use of both online and face-to-face modalities while also saving costs associated with the use of campus facilities.

Sustainable

Flexible learning programs can be modularized, exported, reconfigured, and shared with other courses to enhance traditional face-to-face delivery.

Contextual

Flexible learning needs to be closely linked to the world of work. Employers will be engaged as partners in the design and delivery process to ensure that both the content and delivery methods are relevant, feasible, and reflective of workplace requirements.