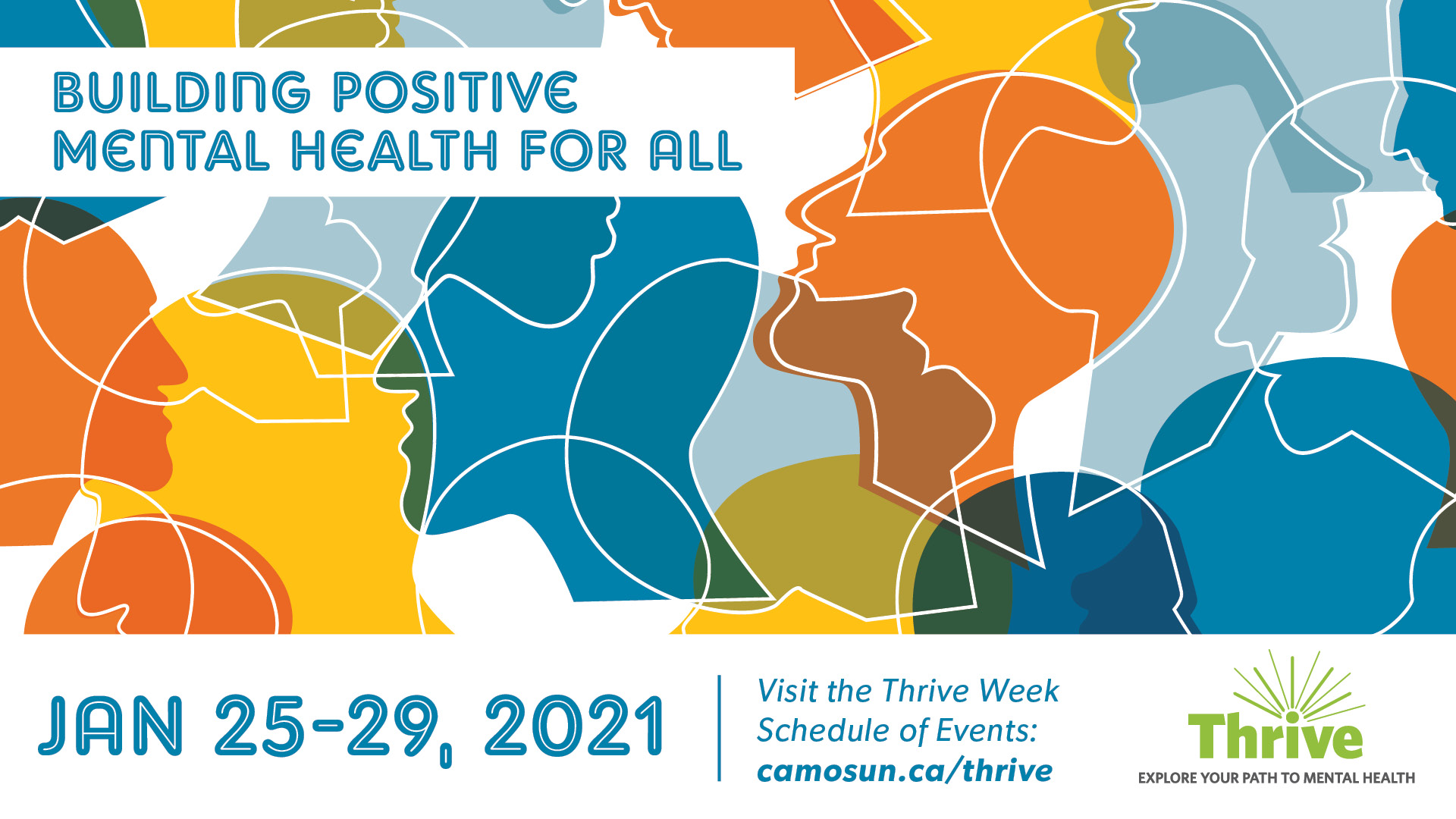 Thrive is an initiative focused on helping students, faculty and staff at Camosun College to explore their path to mental health. All Thrive events will be posted here, so please check back to see what initiatives are happening around campus!
Upcoming Events
Winter Thrive Week
January 25-29, 2021
Winter Thrive Week is a weeklong event to promote mental health literacy, reduce stigma, and create a healthy campus for employees and students. Check out the virtual workshops and information sessions to learn more about mental well-being strategies and College initiatives that help support mental health. Winter Thrive Week's campus partners include: Healthy Together!, Human Resources, Student Affairs, Fitness & Recreation, the Massage Therapy and Athletic Therapy Clinics and the Camosun College Student Society.
Bingo Card
The Thrive BINGO Card has been developed to encourage self-care throughout Thrive week for both students and employees!
How it works:
Throughout the week complete the self-care strategies and mark them off on your BINGO card
Submit your BINGO to healthytogether@camosun.ca by 4pm on Monday, February 1
Complete at least 5 activities to have your name entered in a draw for a chance to win a prize!
Prizes include two $50 gift certificates to the Camosun Bookstore
Student Affairs will draw for prizes on February 5.  Winners will be contacted shortly afterwards.
How to Participate
Links to participate in the student events will be posted in the schedule below in the week prior to Thrive Week. All student workshops and events will take place using Microsoft Teams – we invite you to download and install Teams prior to Thrive Week. Click "Join Microsoft Teams Meeting" within the schedule below to join the event.
Thrive Week Schedule
Event Descriptions
Student Specific Events
| | |
| --- | --- |
| Event | Description |
| Sound Meditation & Student Health Plan & Services – Q&A  | Please join Kilah from the Student Society for a relaxing drum sound meditation, and to learn about the support tools offered to all Camosun students through the MyWellness program. |
Events for everyone
Event
Description

AET Clinic 

The AET clinic, located at Interurban campus in the PISE building, is open all week and will be offering athletic therapy services to students, employees and the public at a reasonable fee.

The clinic provides services in Athletic Therapy including musculoskeletal assessment, rehabilitation, and prevention for all your aches, pains, or injuries (including an option for Laser Therapy). The AET Clinic also provides exercise therapy options which consists of fitness and health risk assessment, as well as stabilizing orthotics (assessment, provision and fitting).

Operating hours: Monday to Friday from 9am to 5pm 
Location: PISE, Interurban 

To book an appointment: Book online or call 250-370-4745 

For more information on the AET clinic and its services visit their webpage. 

Massage Therapy Clinic 

The Massage Therapy Clinic, located at Interurban campus, will be offering massage therapy services to students, employees, and the general public at a reasonable fee.

There is also an Employee and Lansdowne student in-reach offered at the Lansdowne Campus! Same fees applied but only available for booking via email and phone call.

Massage Therapy is an effective treatment that can provide help to reduce stress, pain, muscle tension. Participants will be treated by one of the program's Massage Therapy Diploma students under the supervision of a Registered Massage Therapist (RMT).

To book an appointment: book online, email massageclinic@camosun.ca or call 250-370-4747

 

Bell Let's Talk Day

Join the conversation on Bell Let's Talk Day, January 28, when Bell will donate 5 cents to Canadian mental health programs for every text, mobile and call by Bell customers; tweet or TikTok video upload using #BellLetsTalk, social media video view, or use of the Facebook frame or Snapchat filter.
Events for Employees
Event
Description

Anxiety, Depression, and COVID-19: Supporting Yourself and Others

During this stressful time of uncertainty and increased social isolation, it seems more important than ever to stay connected in community, and practice COVID-19 poses unique challenges to individuals who experience anxiety and depression. The uncertainty, social isolation and sometimes sudden and unexpected changes to normal routines, relationships with others, and work and home environments can be especially triggering to those already vulnerable to the effects of anxiety and depression. In the face of a pandemic like COVID-19, it is more important than ever to exercise vigilance around our mental well-being and the mental well-being of those around us.

This session will:

help participants understand anxiety and depression,
equip them with strategies for regulating their own emotions; and
tips for supporting others who may be experiencing difficulties.

The session will be facilitated by Jim Kragtwyk, Homewood Health.

Register. A Microsoft Teams link will be provided once you have registered.

Leading Through Change Community of Practice for Workplace Leaders

In recognition of Bell's Let Talk, the Leading through Change Community of Practice for Workplace Leaders will be gathering to discuss how to support mental well-being discussions in the workplace and reducing the stigma. Guests facilitators Daryl Thomson, HR Strategist, and Elisa Behn, Employee Health Advisor, will be in attendance to help facilitate the discussion.

This community of practice is open to all workplace leaders. To receive the meeting invite for the event, contact hrld@camosun.ca.

Supporting Students in Distress 

When we work together to identify and support students in distress, everyone benefits. Learn about the supports and services available to students, our collective role in creating a culture of safety and respect on campus and the supports available to you as an employee.

This session will be facilitated by our Student Support Managers Jenny Holder and Stephanie Pedneault.

Mindfulness in Education Community of Practice

During this stressful time of uncertainty and increased social isolation, it seems more important than ever to stay connected in community, and practice our mindfulness. Meet regularly with peers to practice mindfulness using guided meditation. Take a break, and support each other in a collegial environment. Everyone welcome! Sheryl Haynes (faculty in Community, Family and Child Studies) will be facilitating these peer-based gatherings virtually, every Monday at 9 am from January 4 through to June 28. Mice Albano (faculty in Academic and Career Foundations) and Diane Gilliland (faculty in Academic and Career Foundations) will also be facilitating on occasion. Please share with others you think might be interested. For more information, or to get on the email distribution list, contact Martha McAlister.

In addition, please check out the Community of Practice MS Teams site, which has a channel for Mindfulness in Education. This is a place to share resources and for ongoing dialogue and peer support.

Find the Team's Meeting link here. Everyone welcome! Feel free to drop in.
Student Wellness Blog
Welcome to Camosun's Student Wellness Blog! This blog is hosted by your Student Affairs Department and the content is created for students by students. The purpose for creating this blog is to support your learning and overall wellbeing. Along with promotion of mental health and well-being, this blog was created with the goal to build peer to peer connection and create community among Camosun students. We want your experience at Camosun College to be a happy and productive one! 
We recognize that you and your fellow students are the experts on the type of stresses and concerns you are feeling. For that reason, we have fellow Camosun students providing input and writing each blog post.  
End of Term Blog Post #3
December 4, 2020
Congratulations students, or as we say in my faith - 'Mazel Tov!' It is the most wonderful time of the year – winter break;a time when we Camosun students can breathe a sigh of relief. First thing is first: give yourselves a round of applause and skip to a jolly tune over a job well done this term!  
For today's blog post, I will be discussing how to nurture your mental health during the holidays. The month of December in Victoria is a wonderful time for countless reasons: the stunning, twinkling Christmas light display at Butchart Gardens; the permanent autumnal breeze and snowless streets; the (socially distant) festive gatherings with friends and family; and above all, the giving. December also includes unique responsibilities and emotions. Often, we instinctually prioritize our loved ones over ourselves during the holiday season as we often become hyper-focused on ensuring their happiness. Locating the perfect unique gifts that signify our appreciation for enriching our lives. 
With the many challenges we have faced as a community in 2020, I encourage everyone to also consider your wellbeing this holiday season. Feelings of isolation, stress, and reliving past trauma are common this time of year, which can significantly affect our mental health. I would like to share a few ways to cope with negative emotions over the holidays.  
Maintain Regular Routines: With extra pressures on our time and attention, it can be easy to fall out of the routines that help us manage our health and wellness.. Try to maintain your healthy habits – eat food you enjoy, stay active, get plenty of sleep, and spend time on activities that relax and sustain you.
Spend Time with People Close to You: Visiting with our loved ones and fostering these personal connections and community is one of the best ways to nurture positive mental health and well-being. This may also mean creating healthy boundaries with people who may bring stress or tension into your holidays – do not be afraid to decline invitations or take some time to yourself if necessary. Let us also remember to  follow the latest advice of health professionals regarding when and with whom you should gather with during the pandemic.
Avoid perfectionism: Many people feel pressured to have the perfect holiday season. This can lead to stress and disappointment if reality does not match the ideal.  Enjoy simple, inexpensive traditions and look for meaning and positivity in what the holidays bring to you. 
Acknowledge your feelings: Feelings of loss, grief, or change during the holidays are not uncommon. If you have lost someone close to you, aren't able to visit loved ones, or are experiencing a difficult life transition, please know that you are not alone, and that your feelings are valid.  
As Always, Ask for Support if You Need it:  Below are a few resources available to help if you are experiencing mental health challenges over the holidays. 



Here2Talk. Here2Talk connects students with mental health support when they need it. Through this program, all students currently registered in a B.C. post-secondary institution have access to free, confidential counselling and community referral services, conveniently available 24/7 via app, phone and web. Visit here2talk.ca or call 1-877-857-3397.
Camosun Counselling Resources. The Counselling department has a number of self-help resources and greater Victoria resources listed on their site.
HealthLink BC: Provides 24/7, confidential health information and advice. Call 8-1-1 or visit: healthlinkbc.ca. 
Island Health- Mental Health and Substance Use Services: Island Health offers innovative services for treatment and support for those impacted by mental health and substance use issues. If you are experiencing a crisis or an emergency, call the Vancouver Island Crisis Line, available 24/7: 1-888-494-3888. 
MindHealthBC: Vancouver Coastal Health Authority, Providence Health Care and community partners have created an online mental health counselling program. If you're struggling with depression, anxiety, or other mental health or substance use challenges, visit mindhealthbc.ca for information and recommendations for further support.  
This holiday season, focus on being the best version of yourself. With all the adversity 2020 has introduced, it has undoubtedly created a united community, filled with strength and resilience. I hope you have you all enjoy a fantastic holiday season, and may you have an incredibly happy new year.  
All the best,  
Mika – Practicum Student  
Student Affairs