A snapshot of Camosun's community and contribution to education and the economy.
Inspiring life-changing learning
Founded in 1971
20,400 learners a year
160+ programs
24 students - typical class size
24 years - median student age
1,200 Indigenous students of First Nations, Métis, and Inuit ancestry
2,100+ international students from more than 80 countries
65,000+ alumni
Programming areas
Partnering with industry
Over 500 faculty experts
Advanced manufacturing, product design, prototyping, testing and troubleshooting services available through our applied research Camosun Innovates:

Babcock Canada Interaction Lab – offers a flexible environment for application, co-creation, exploration, ideation, and innovation
Technology Access Centre –provides NSERC-funded access, support, research, and development for local business and industry, with specialized manufacturing technologies, 3D scanners and printers, CNC machines and robotic systems, AR/SR/VR/xR and simulation development
Education and Training – develops student capstone projects with industry partners, contract training for advanced manufacturing, and next-generation learning solutions

Work-integrated learning opportunities – students available for co-op education work terms, internships & practicums
50 active Program Advisory Committees (PACs) with close to 500 industry/business volunteer members
Integral to the economy, BC and beyond
$1 billion/year economic impact to BC
92% of surveyed graduates are employed or pursuing further studies
Student numbers (2018/19)
19,000+ students in certificate, diploma, and applied degree programs
5,500+ Continuing Education registrants
2,100+ International students from 80 different countries
1,200+ Indigenous students of First Nations, Métis, and Inuit ancestry
90% of recent grads satisfied or very satisfied with their education at Camosun
93% of students who go on to further studies say they were well prepared
Camosun has five Provincial and National award-winning intercollegiate Chargers athletic teams in volleyball, basketball, and golf
Employees (2019/20)
1,200+ FTE faculty, staff, administration
Financial results (2019/20)
Revenue ($million)
Expenses ($million)
Total
$147.6
Total
$147.3
Provincial grants
67.8
Salaries & benefits
114.5.0
Provincial capital grants
9.5
Suppliers & services
15.1
Federal & other grants
2.5
Costs of goods sold
3.35
Tuition & fees
48.9
Minor repairs & maintenance
5.0
Goods & services
15.4
Amortization
9.4
Other
3.5
 
 
Camosun College Foundation (2018/19)*
1,519 students supported by bursaries and awards
$27.4 million in total assets
$1 million + disbursed for student assistance
12-member volunteer board
100% of every dollar donated goes directly to Camosun causes
*Based on 2019 figures.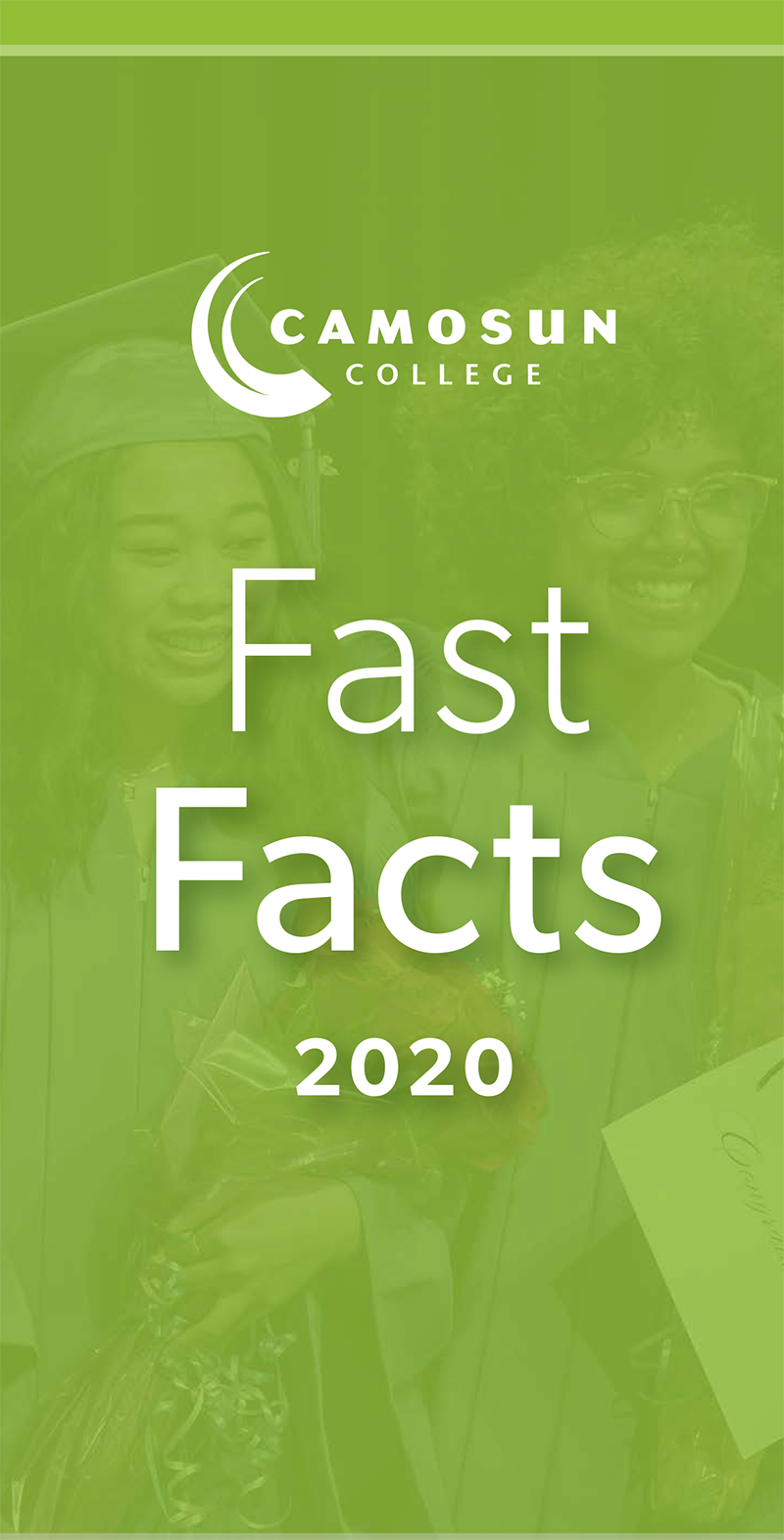 Download the 2020 Fast Facts brochure PDF
Looking for more data?
Faculty and staff
Are you interested in additional data or would you like assistance with your web-based survey? 
External Requests
If you aren't a member of the Camosun community please contact irp@camosun.ca