The Camosun College Foundation has a long established history of building bonds with supporters who have helped shaped this extraordinary centre of learning. We serve on the Board for a reason. Camosun College is a special place.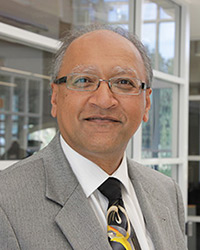 We believe all students, regardless of circumstance, deserve the opportunity to discover and pursue their talents and ambitions. Camosun inspires transformation.  It inspires people to learn and apply their new knowledge to creating fulfilling lives and helping build healthy families – families who play integral roles in our community and in our economy. Our community is changed for the better because of Camosun College.
Contributions from our thousands of donors since 1981 have helped us foster these opportunities. Now with an asset base of $17.5 million, and growing, our donors' generosity has a greater impact than ever before.  And 100% of every donation goes directly to benefit a specific Camosun cause.
Our strategic approach to investing helps us navigate the fluctuating economic tide and, through our balanced portfolio and limited exposure to equities, we offer a solid investment to our donors.
To our donors and community, thank you for believing in Camosun and in the transformative difference quality education makes one student at a time.
As Board members, we are proud to be a part of such a diverse, dynamic and progressive college community and we invite you to share in our passion.
Jeety Bhalla
Chair, Camosun College Foundation
Foundation Board of Directors
The Camosun College Foundation is a not-for-profit organization with an autonomous Board of Directors whose mandate is to support the fund-raising priorities of Camosun College. It is made up of dedicated volunteers whose hard work helps to secure gifts for student bursaries and scholarships, new buildings and equipment, program enhancements and so much more.
The Board meets at least four times per year and members play active roles on individual Fundraising, Finance & Audit and Governance committees.
Jeety Bhalla Chartered Accountant (Chair)
Sherri Bell President, Camosun College
Monty Bryant Education Administrator (Board of Governors Liaison, Camosun College)
Duncan Davies Chartered Financial Consultant
Sarah Goodman Lawyer
Carly Hall Instructor, Camosun College
Tom Hawker Chartered Accountant
Deborah Huelscher Interim VP Administration & CFO, Camosun College
Russ Lazaruk Investment Advisor & Portfolio Manager
Dave Murray Professional Engineer and Business Owner
Patrice Newman Lawyer
Robert (Bob) Noble Retired Professional Engineer
Pamela Shemilt Retired Business Owner
Ty Whittaker Executive Vice President, Personal Real Estate Corporation
Geoff Wilmshurst Vice President Partnerships, Camosun College (Executive Director)