All in a day's work
Camosun alumnus Phillip Yee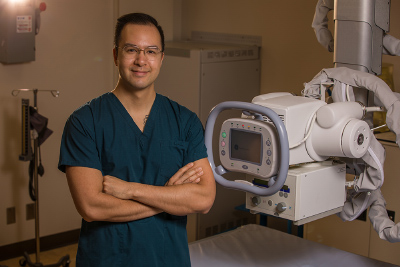 On a daily basis, x-ray technologist Phillip Yee draws on the
teamwork and communication skills that he learned at Camosun.
"There really is no typical day," begins Phillip Yee, when asked what a typical day for an x-ray technologist is like. This is part of the reason that Phillip left a career in finance in Vancouver to relocate to Victoria for Camosun's Medical Radiography program in 2014.
"But on a regular day, I arrive at work around 8am, show up to my department, and then I start taking x-rays right away." Phillip thrives on the variety, whether he's in the operating room or the x-ray clinic, or stationed at Victoria General Hospital or Royal Jubilee Hospital as an employee of Island Health.
Phillip explains how techs have to respond to doctor's requests for x-rays while they're diagnosing patients. "We're a very busy department. The best way for the technologists to deal with the pace and the demands is to work together as a team, rather than individually taking x-rays, and to communicate with each other and the doctors."
Teamwork and interprofessional communication are skills that Philip built on while he was at Camosun. For two years, he was part of a cohort of 16 people as he went through the medical radiography program. With a bachelor's degree in psychology and previous work experience, he had already picked up the basics of professional communication. At Camosun, he learned how to support other professionals in a health care context.
Phillip also started the program with an enthusiasm for technology, pairing it with compassion and a skill for working with people. This has proved invaluable on the job. "When you take an x-ray, you don't just put the body part in the machine and press a button," he says. "You have to get the room ready, prepare the patient, and make sure you're clear about what you're supposed to x-ray. You have to balance what the doctors want and what the patient can do, so you need to get very creative about how to get the images."
Creativity may not be a characteristic that people associate with x-ray technologists, but Phillip stresses how he has to be creative on a daily basis. "There's a lot of problem solving every day. For example, when trauma patients come in from the emergency room, you might have dead weight on a stretcher, and you need to think of different ways to get the x-ray without moving the body too much. You don't really know what's broken or not, but you need to get the right images for the radiologists so they can get the proper diagnosis."
Whatever happens over the course of a day on the job, Phillip can put his feet up at the end of it and rest assured that he did his best. As an x-ray tech, Phillip displays a delicate balance of compassion for people and comfort with technology, while being able to respond to challenging situations, think quickly, and creatively solve problems.
This is part of a series of profiles of alumni and students from Camosun's School of Health and Human Services, in support of the Together for Health campaign for The Alex & Jo Campbell Centre for Health and Wellness.