Investing in health and wellness in our families and communities
John Wilson and Samantha Wilson lead the way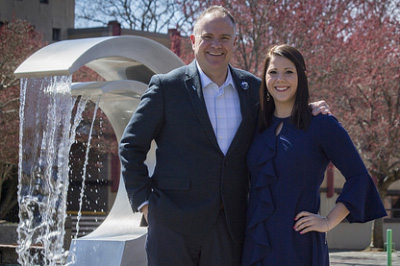 John Wilson and Samantha Wilson, co-chairs of the Camosun College
Together for Health campaign, invite you to get involved.
The Wilson family may be best known for their extensive network of buses, but they are equally as passionate about healthy communities.
This passion is what drove Wilson's Group President and CEO, John Wilson, and his daughter Samantha, Wilson's Group Sales and Community Relations Manager, to sign on as co-chairs of Camosun College's Together for Health campaign. The fundraising campaign has raised more than half of the $5 million goal for the new Alex & Jo Campbell Centre for Health and Wellness. John and Samantha are leading a small group of visionary donors and a circle of volunteer Health Champions towards reaching the goal.
The Wilsons have built a deep connection to Camosun over the years, from supporting Chargers Athletics and recognizing John's parents through a leadership gift to the TRADEmark of Excellence campaign, to volunteering in advising roles and providing apprenticeship opportunities for trades students at The Wilson Group of Companies.
"Community is at the heart of everything we do," says John. "Education is another way to build community. Accessible education in the Greater Victoria area is key to keeping talent local. If we don't have it, people go away to school and they may not come back. But if they're rooted in Victoria while they're doing their education, they're more likely to stay in the community when they're done."
Camosun serves that need in our community. The health sector is one of the fastest growing in BC and the demand for skilled professionals is increasing as the general population ages, migration to Vancouver Island increases, and people in the current workforce retire. More than 88 per cent of Camosun's health care graduates stay and work in our community.
In addition to the connections through the family business, the Wilsons have personal connections to the college. Samantha is a proud Camosun alumna, having studied business and psychology at the college. "I have such positive memories of being on the Camosun campuses," she says. "I loved the small class sizes, the attention from instructors, and the supportive learning environment."
Health care could almost be considered the other Wilson family business. John's mother is a retired nurse, his sister currently works as a nurse in Vancouver, and his wife's aunt is a retired nurse and former faculty in Camosun's nursing program.
John and Samantha's involvement in the campaign is driven by their dedication to community and a love of Camosun. "We consider ourselves very fortunate to have no significant health issues in the family," says John. "No cancer, no heart disease, nothing like that. We're a strong family with a healthy business, and that puts us in a place where we can support growth and development in every sense."
Founded by John's father in 1962, The Wilson's Group of Companies has grown to include charter buses that serve much of the Pacific Northwest, as well as Gray Line sightseeing open top double decker buses, the YYJ Airport Shuttle, and the BC Ferries Connector. John has worked for the company for more than 30 years, and stewarded his son, daughter and nephew into leadership positions, effectively involving three generations of Wilson's in the family business.
Along with growing the family business, John volunteers with several community business networks and serves as Vice Chair of the Greater Victoria Chamber of Commerce. He is also committed to growing local sports communities through his co-ownership of the Victoria Grizzlies Junior A Hockey Club, Victoria HarbourCats Baseball Club, and Peninsula Panthers Junior B Hockey Club.
With all this activity, the lines between business, family, and community may occasionally blur, but both John and Samantha believe in setting boundaries.
"Work can spill into family life," says Samantha. "We definitely do our best to stop that from happening, and I think we do a pretty good job of it. As a family, we play a lot together. We go to events, we do fun things, and I think that's very important for our mental and emotional health. You've got to relax and let loose every once in a while."
John nods in agreement, and appears to sum up his business and community philosophy in one sentence. "Good health gives you a long life to spend with your family."