The Camosun College Foundation appreciates every donor who gives to the college. A sincere thank you to all our donors for everything you do to support and encourage our students!
Giving some love to Camosun payroll donors
May 14, 2019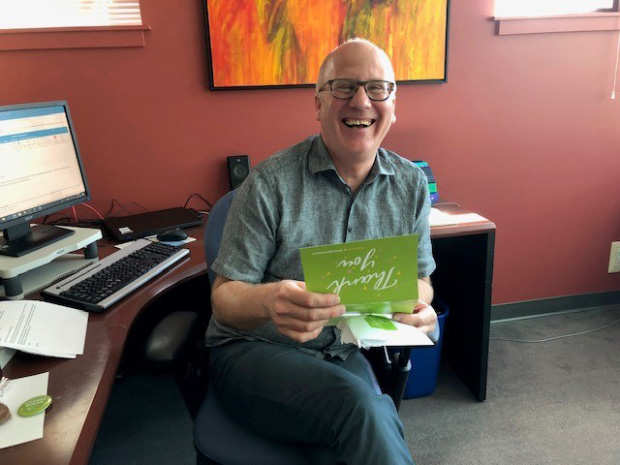 VP Education, John Boraas, has been a payroll donor for 20 years!
Camosun College employees are generous and humble changemakers! Some employees quietly give a portion of each paycheque to the Camosun College Foundation, which in turn uses 100% of these donations to support bursaries and funding for Camosun students.
It's time to recognize and celebrate almost 100 payroll donors! This week, staff from the office of Advancement and Alumni Engagement handed out special gifts to payroll donors. Some of these incognito donors have been giving for years—even decades!
These little gestures of gratitude brightened up both Camosun campuses. Camosun employees who want to be part of this inner circle of changemakers can become a payroll donor today by contacting foundation@camosun.ca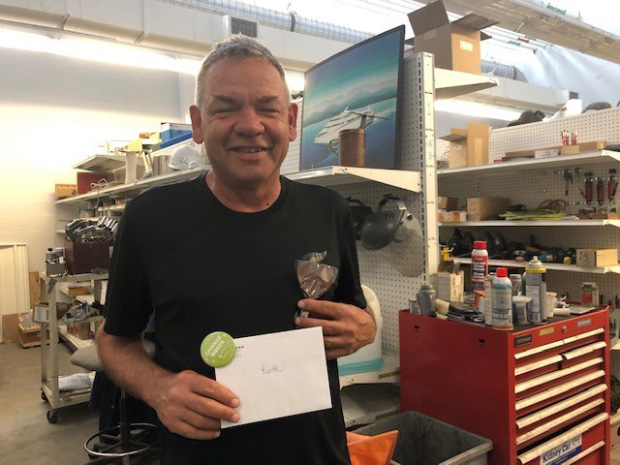 Keith Todd gets some donor love in the welding shop tool crib. He created a bursary in honour of his friend Richard Rayfuse and directs his payroll donations to the fund.
---
RBC gives to Camosun's dual credit programs
April 10, 2019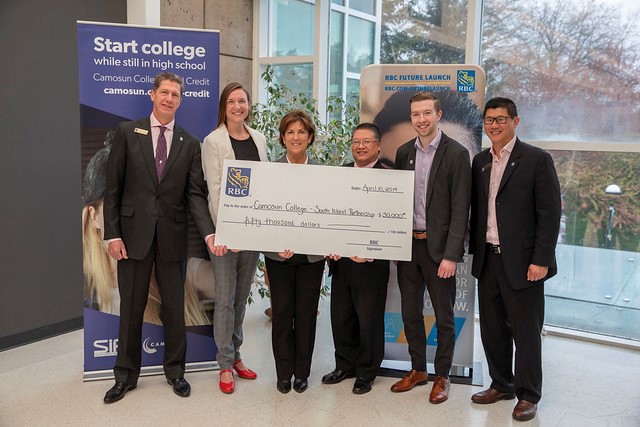 The RBC team presents the gift to SIP. L-R: Mark Lovick (RBC Regional Vice President, South Vancouver Island), Nicola Priestley (Director, South Island Partnership), Sherri Bell (President, Camosun College), Frank Low (RBC Community Manager, Saanich), Jordan Joly (RBC Financial Advisor), Jack Leung (RBC Vice President, Commercial Financial Services Victoria)
The Camosun College Foundation is so grateful that RBC has committed $50,000 to Camosun's South Island Partnership (SIP) program! SIP makes it possible for high school students to get credits for Camosun courses while completing their high school diploma. The gift comes through the RBC Future Launch program, reflecting RBC's commitment to empower Canadian youth for the jobs of tomorrow.
RBC leaders in the region made a special trip to Camosun's Interurban campus on Wednesday, April 10 to present the gift and meet the SIP team. SIP includes Camosun and the five south Vancouver Island school districts who work with local industry.
While on campus, the RBC group toured the Centre for Trades Education and Innovation and learned more about the college's trades and tech programs. Two current SIP students joined them in the Classroom Restaurant for lunch prepared by Camosun's Culinary Arts students. Korbin Montufar is a grade 12 student at Claremont Secondary School enrolled in Camosun's carpentry foundations program. Tekahra Tarnowski graduated from Esquimalt High School in 2018 and is in the legal office assistant program.
Korbin and Tekahra shining examples of the students that RBC will be supporting through this generous gift!
RBC Future Launch is a 10-year, $500 million commitment to empowering Canadian youth to build meaningful careers. With a focus on networking, skills development and experience, the initiative aims to help solve the problems facing young people due to the changing landscape of the workplace.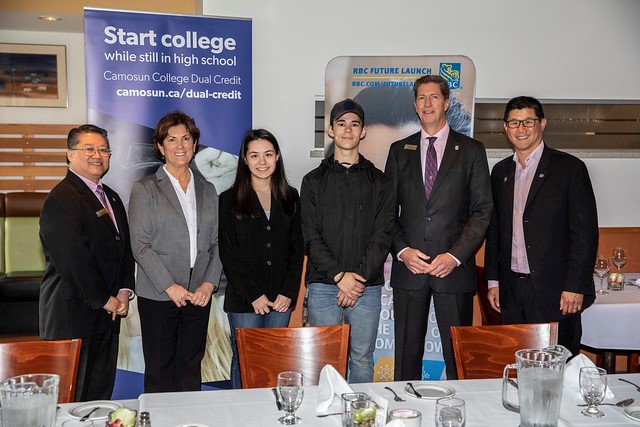 About to enjoy lunch in the Culinary Arts Classroom Restaurant, Interurban campus. L-R: Frank Low, Sherri Bell, Tekahra Tarnowski, Korbin Montufar, Mark Lovick, Jack Leung
---
Thank you to Princess Auto for 7 years of support
April 10, 2019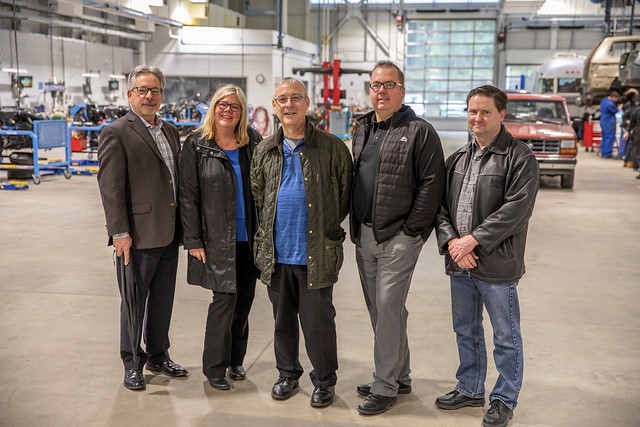 Leaders from Princess Auto and its foundation tour the automotive shop in Camosun's Centre for Trades Education and Innovation. L-R: Harold Romanychyn, Renata Dennis, Bob Tallman, Neal Hahn, Wes Kolesar
Friends from Princess Auto and the Princess Auto Foundation came to Camosun College on April 10 for a visit recognizing seven years of support and partnership.
The philanthropic arm of the well-known Winnipeg-based tool and equipment company has contributed $195,000 over the past seven years. With their generosity, we have been able to give annual bursaries to more than 35 Camosun trades and tech students demonstrating financial need and career potential.
The Princess Auto Foundation, created by Princess Auto founders, the Tallman family, is committed to supporting education and quality of living initiatives for students across Canada. We are honoured to be one of their 16 partner colleges!
Meet some of our amazing donors