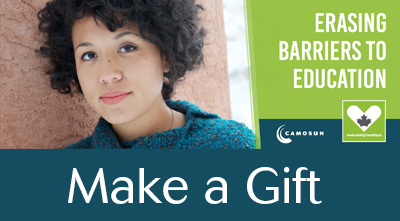 There are many ways you can help Camosun College and its students.
Use our new online calculator to learn how you can make a long-lasting difference and receive significant tax benefits when you support the Camosun College Foundation.
Cash
One-time gifts of cash provide immediate support for students and programs. Give online, by mail, phone or drop in.
Monthly contributions & Payroll deductions
Giving regularly can add up to significant gifts. Please contact the Foundation today if you would like to set up a regular donation. Camosun employees can also sign up for weekly or monthly payroll deductions.
Gifts of securities
You can donate shares, publicly-traded stocks, bonds, mutual funds, futures and GICs to reduce your capital gains.
Gifts-in-kind
Donate trades or medical training equipment, supplies, classroom materials, real estate, artwork or government certified cultural property and receive tax benefits.
Employer matching
Many people work for a company or organization that will match their charitable giving. If your employer will donate to match your gifts please let us know and we will make the arrangements.
Tax law and estate planning are complex. Please talk to your financial or legal advisor about the tax benefits, thresholds and appropriateness of these choices for you.
Bequests
Remember Camosun in your will with a bequest of a percentage of your estate or cash, securities, real estate, and other assets. Wills are personal matters, but please let us know if you have named Camosun in your will. We will work with you to ensure your bequest will achieve your intentions.
View sample clauses for your gifts to Camosun
RRSPs & RRIFs
Donate unused portions of your RRSPs or RRIFs and receive a charitable donation receipt for the amount of the RRSP or RRIF, offsetting taxes owed.
Annuities
Create a charitable gift annuity and you will receive guaranteed annuity payments throughout your lifetime. The portion of the gift not required for purchase of the annuity is retained by the Foundation and gives you an immediate tax benefit.
Trusts
You can establish a charitable remainder trust than retains income interest for your life and/or your beneficiaries, giving you an immediate tax benefit. When the trust is terminated, the remaining assets become your gift to Camosun.
Residual interest
Transfer the residual interest in your residence and retain the right to use the property for life, giving you an immediate tax benefit.
All inquiries are strictly confidential. For a personal consultation, please contact: