The principles are arranged in a series of concentric rings. The movement suggested runs clockwise beginning with "intention" in the inner ring, to "acknowledgement in the outer ring. Learning is in the middle and represents an anchor: we want to ensure our focus is on learning. The outermost ring has the words "community" and "context". This depicts that the learning that takes place at the college is up-to-date with the needs of "real world" and that Camosun graduates are fully prepared to work in their field or go on to advanced credentials at a university.
Preparation
The first four principles outline the curriculum development process and preparation for an applied learning activity. The process outlined below can be applied to course activities, an applied learning course, or an applied learning program. Cycling through the 4 principles during the curriculum development phase is advised, especially to ensure that the learning activity is grounded in intentional experience.
Intentional
Curricular Preparedness and Planning
Authenticity
Reflection
Student Experience
The final four principles outline the student experience.
Orientation, Training, and Engagement
Monitoring, Reflection and Adaptation
Assessment and Evaluation
Acknowledgment
Source: http://www.nsee.org/8-principles
Community
The inclusion of community within the model indicates that everything we do has impact beyond the college, and is intrinsically connected to society and industry. It highlights the need to seek out and nurture relationships with people across all sectors of our region and beyond to ensure authenticity, relevance and currency in all that we do.
"Everything else has accelerated but schools have not; so schools have become more disconnected. The walls between schools and the outside need to be more permeable."
Larry Rosenstock, CEO of High Tech High Network, San Diego
Preparation
Intention
All parties must be clear from the outset why experience is the chosen approach to the learning that is to take place and to the knowledge that will be demonstrated, applied or result from it. Intention represents the purposefulness that enables experience to become knowledge and, as such, is deeper than the goals, objectives, and activities that define the experience.
Instructor perspectives
"We have a deep and rich history in applied learning. It is completely embedded in what we do. To quote one of our faculty: 'It's not what we teach, it's how we teach it'. That's really our philosophy."
Carl Everitt
Hospitality Management, School of Business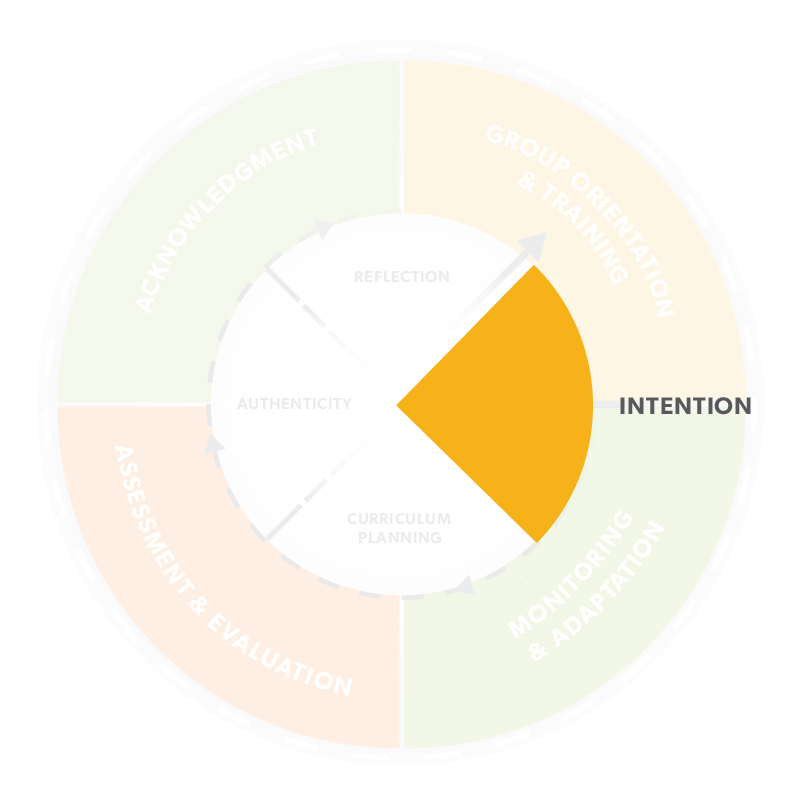 ---
Curriculum Planning
Teachers must ensure they enter the experience with sufficient foundation to support a successful learning experience. They must also focus from the earliest stages of the experience/program on the identified intentions, adhering to them as goals, objectives and activities are defined.
The resulting plan should include those intentions and be referred to on a regular basis by all parties. At the same time, it should be flexible enough to allow for adaptations as the experience unfolds.
Instructor perspectives
"You never know when you're ready to make it [applied learning activity] fly. I think the best thing that you can do is trust that your project will be successful on some level. There's going to be hiccups. There's going to be detours. There's going to be 'OMG, we should have thought of that, how come we didn't'."
Nancy Yakimoski
Visual Arts, School of Arts & Science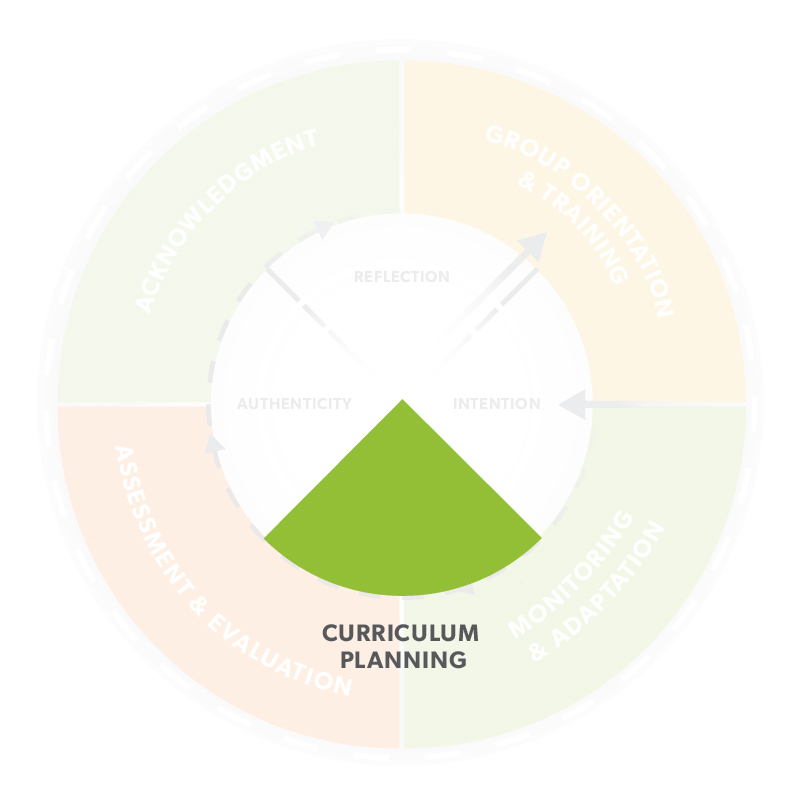 ---
Authenticity
The experience must have a real world context and/or be useful and meaningful in reference to an applied setting or situation. This means that it should be designed in concert with those who will be affected by or use it, or in response to a real situation.
Instructor perspectives
"Students learn the theory in class. Then you get to go out and see how it's done. Then, even sweeter, not only are students learning in the field, but also students get to do it with community members. And, you're making something that will have a long lasting legacy."
Emrys Prussin
Geography, School of Arts & Science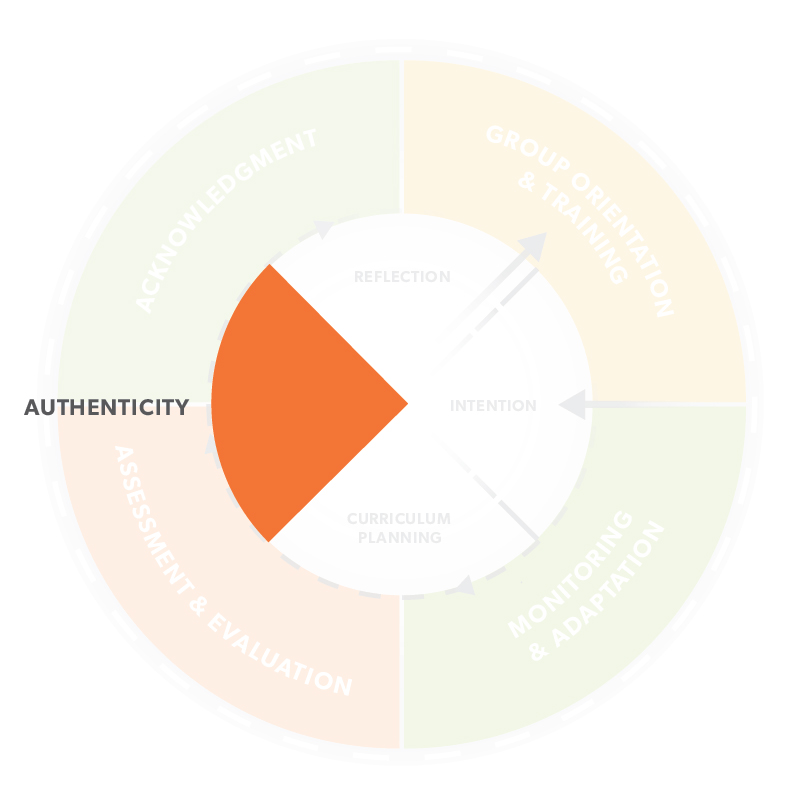 ---
Reflection
Reflection is the element that transforms a simple experience to a learning experience. For knowledge to be discovered and internalized the learner must test assumptions and hypotheses about the outcomes of decisions and actions taken, then weigh the outcomes against past learning and future implications.
This reflective process is integral to all phases of experiential learning, from identifying intention and choosing the experience, to considering preconceptions and observing how they change as the experience unfolds. Reflection is also an essential tool for adjusting the experience and measuring outcomes.
Instructor perspectives
"We create group guidelines at the very beginning of the program. We talk about how we're going to be together. In a way to make this classroom a safe environment for people to share their ideas, to take risks, to try a new skill without feeling embarrassed."
Diane Gilliland
BEST, School of Access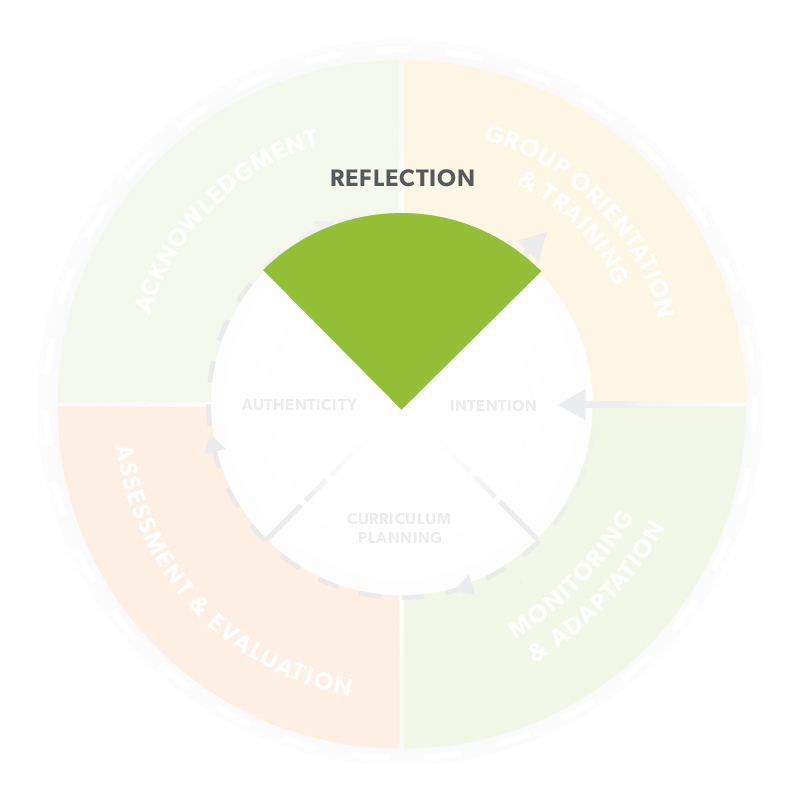 Student Experience
Group Orientation & Training
For the full value of the experience to be accessible to both the learner and the learning facilitator(s), and to any involved organizational partners, it is essential that they be prepared with important background information about each other and about the context and environment in which the experience will operate.
Once that baseline of knowledge is addressed, ongoing structured development opportunities should also be included to expand the learner's appreciation of the context and skill requirements of their work.
Instructor perspectives
"I think my most important piece is not to present myself as the expert.  I am very happy to share with students where and why the idea came from, and who I turned to for expertise or even bring expertise into the room."
Cath Mack
Marketing, School of Business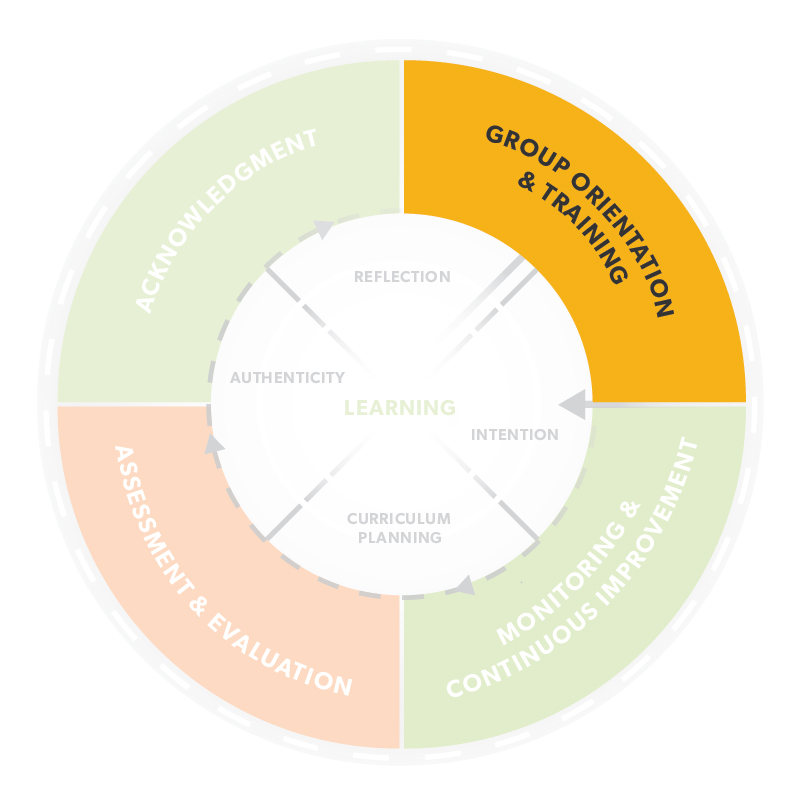 ---
Monitoring & Adaptation
Any learning activity will be dynamic and changing, and the parties involved all bear responsibility for ensuring that the experience, as it is in process, continues to provide the richest learning possible, while affirming the learner. It is important that there be a feedback loop related to learning intentions and quality objectives and that the structure of the experience be sufficiently flexible to permit change in response to what that feedback suggests.
While reflection provides input for new hypotheses and knowledge based in documented experience, other strategies for observing progress against intentions and objectives should also be in place. Monitoring and adaptation represent the formative evaluation tools.
Instructor perspectives
"I'm a big believer that you learn more from your mistakes than from your successes. We create a safe environment for students to make mistakes and learn from them."
Steve Walker-Duncan
Culinary Arts, School of Trades & Technology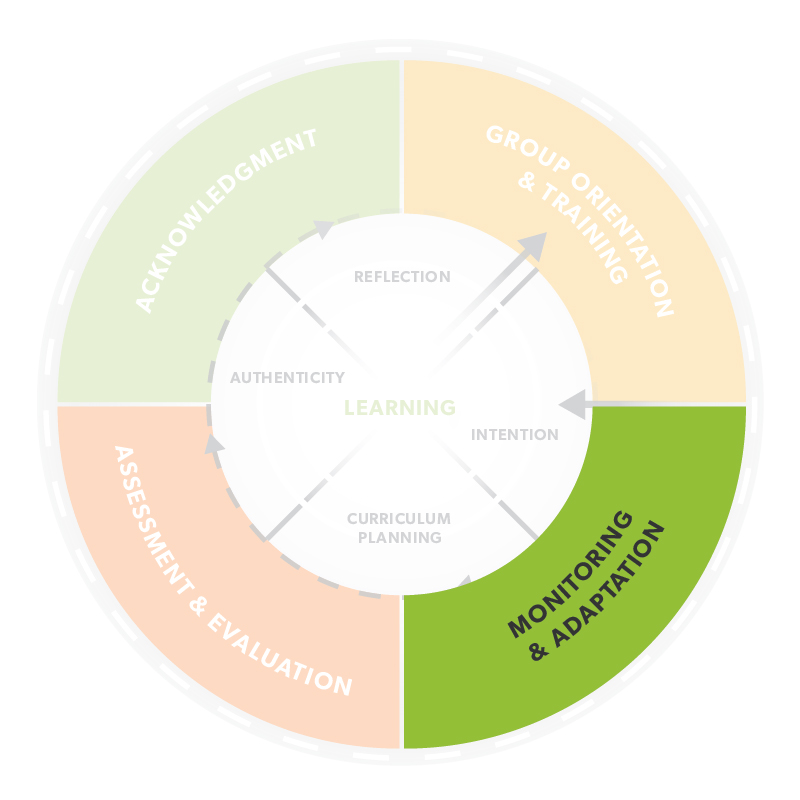 ---
Assessment & Evaluation
Outcomes and processes should be systematically documented with regard to initial intentions and quality outcomes. Assessment is a means to develop and refine the specific learning goals and quality objectives identified during the planning stages of the experience, while evaluation provides comprehensive data about the experiential process as a whole and whether it has met the intentions which suggested it.
Instructor perspectives
"The essence of it is, really, critical thinking."
Imtehaze Heerah
Mechanical Engineering, School of Trades & Technology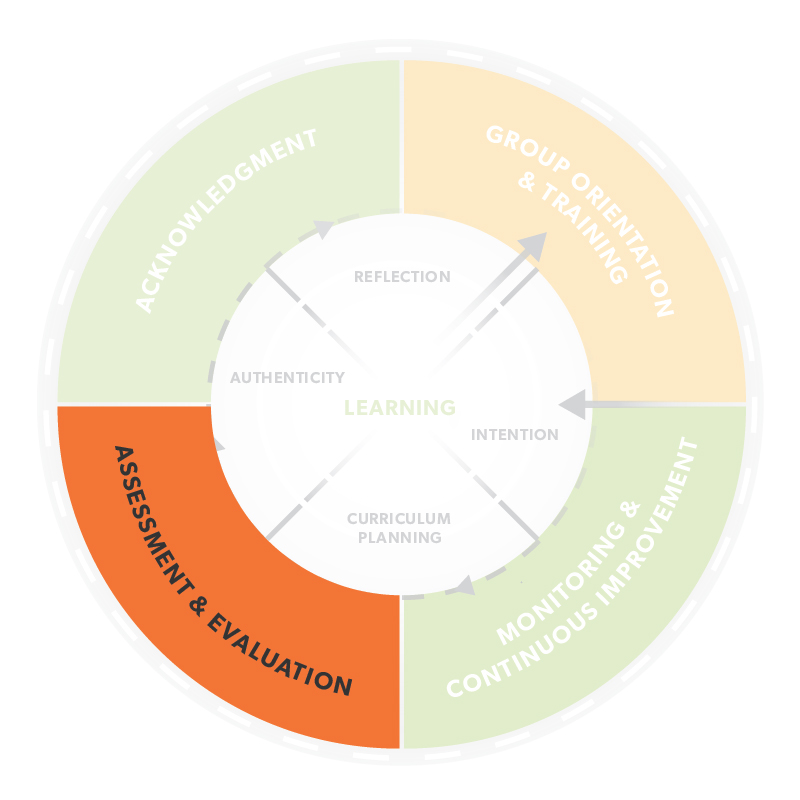 ---
Acknowledgment
Recognition of learning and impact occur throughout the experience by way of the reflective and monitoring processes and through reporting, documentation and sharing of accomplishments. All parties to the experience should be included in the recognition of progress and accomplishment. Culminating documentation and celebration of learning and impact help provide closure and sustainability to the experience.
Instructor perspectives
"We don't do enough of [celebrating student transformation]. We don't do enough celebration." 
Cath Mack
Marketing, School of Business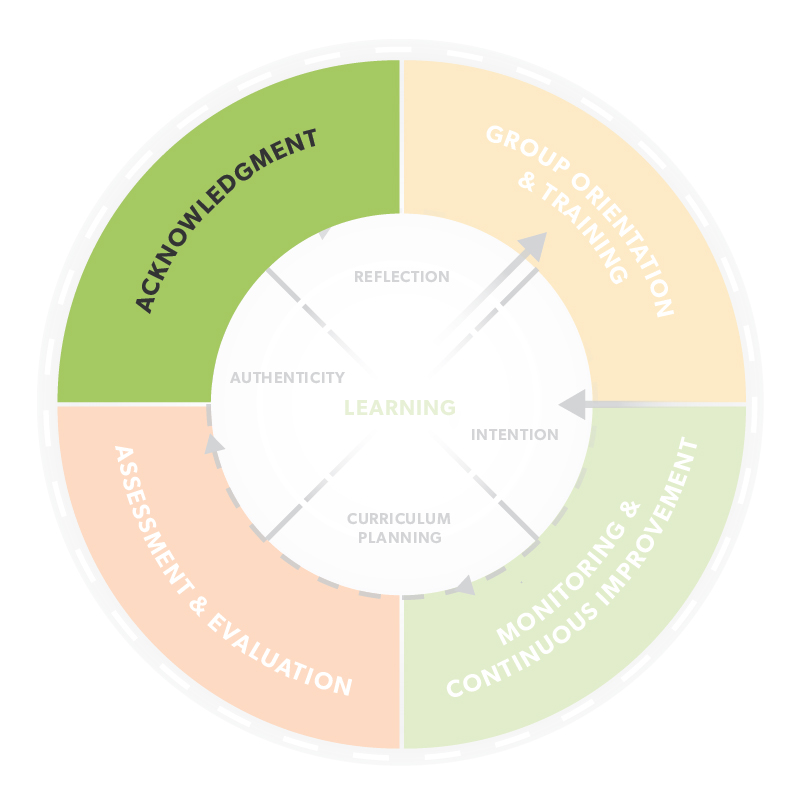 Are you an instructor looking for more information about how to incorporate the principles of applied learning in your course?
Visit the Faculty Guide to hear from Camosun instructors who have successfully introduced applied learning methods into the design of their courses.
You'll also find a guided walkthrough of the 8 Principles of Applied Learning, with some examples, and additional resources.